A Year in Awards! EFX's Favourite Trophies of 2022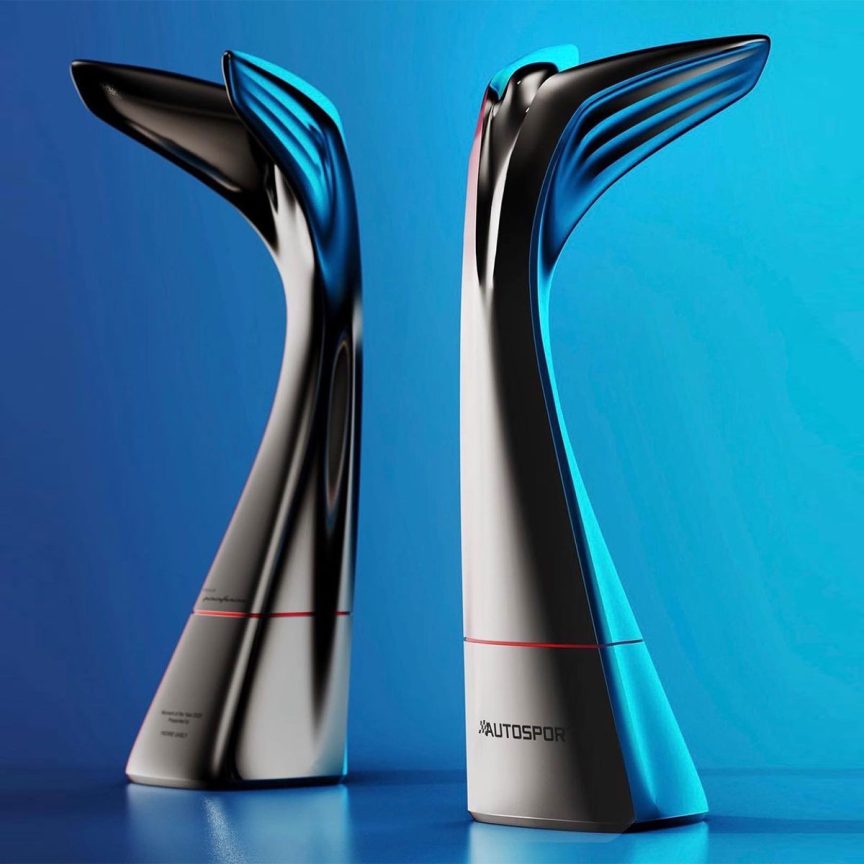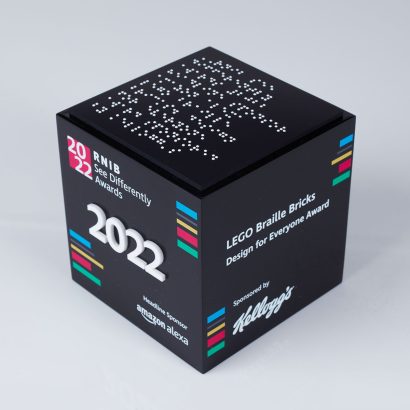 The great thing about creating awards, trophies and medals, is that every year you get new opportunities to create something special. And 2022 has been an incredible year, with some really exciting awards, trophies and events.
EFX have been really proud to play our part in rewarding success, recognising achievement and celebrating winners, with some brilliant trophy and award designs.
Here are a few of our favourite trophies from 2022.

National Comedy Awards
The National Comedy Awards is always a huge night of the year, as it's not just about celebrating the amazing talents in the British comedy circuit, it's also about raising money and awareness for Stand Up to Cancer.
The 24ct gold plated aluminium award uses a brushed finish, a polished finish and a printed  finish to create a unique combination of textures. 
Each one adds something different to the final design, creating a really subtle and stylish trophy.
RNIB See Differently Award
One of the most interesting awards we've worked on this year is the RNIB's See Differently Awards trophy.
Because this award is all about creating accessible experiences for blind and partially sighted people, at EFX we knew the trophy needed to do the same. 
That's why this cubic cast acrylic award included raised features, such as the date on the side, and a special braille top plate.
Often, texture is one of the overlooked features of award design – so this project was a really fantastic opportunity to show why trophies should feel as good to hold as they do to look at!
British Media Award
The British Media Award is one of our favourite designs for 2022, as it shows a beautiful combination of different materials.
This award is created in aluminium and acrylic, with each material showing its versatility and unique characteristics. 
The acrylic backing is the perfect medium for the vibrant colours of the British Media Award branding, while the high polish aluminium creates a beautiful shine that really catches the eye. 

Autosport Award
The new Autosports Award trophy for 2022 was all about taking an iconic logo, and taking it to the next level. This was the first major trophy redesign in 30 years of the event, and was dreamed up by legendary Italian studio Pininfarina.
Our expert team was responsible for machining and finishing the trophy in a high-polish nickel plate. The award was created as a single piece, elegantly swooping upwards towards the wings of victory.
We were delighted to manufacture this incredible award, and create the highest possible quality of finish to bring the design to life.
888poker Live Award
The 888poker logo uses overlapping discs as the key element of their brand, and that was our inspiration for their trophy design.
In the logo, the discs are opaque, creating a lovely effect when they're stacked. In a twist on that concept, we put them on an angle, so you can see each disc as an individual piece, and as part of the "8".
These awards were created in both a high polish gold and a high polish nickel finish, the perfect trophies for the 888poker Live champions.
The Games
ITV's The Games saw 12 celebrities take on Olympic challenges to win an incredible trophy – and some epic bragging rights!
This 24ct gold plated aluminium trophy took inspiration from the Games logo, combined with the running track at Crystal Palace, where the competition was held.
Not only did we have lots of fun creating this trophy, EFX also made gold, silver and bronze medals for the contestants too.

Global Student Living
The GSL Awards 2022 was all about zero carbon student living – so it was absolutely essential that their trophy lived up to those ideals too.
That's why this trophy was manufactured in wood, with a beautiful, natural finish.The design of the trophy was inspired by the GSL logo with its geometric patterns, and a brushed aluminium plate representing the ribbon.
This trophy was a great opportunity to take a 2d design and reimagine it in three dimensions.
PokerStars Gotoga Award
This design for PokerStars Gotoga was a lot of fun, as we reimagined the traditional cup style award into something fantastically modern and abstract.
Using gold and nickel plated aluminium, each "fin" rises from the round tiered base and arcs upwards, creating the shape of a classic cup out of both the metal and the empty space.
This design was an abstract twist on a really traditional style – something we really enjoyed creating!
Svenska Cupen
Another interesting take on the classic "cup" shape came from the Svenska Cupen – or the Swedish Cup. This trophy was designed for the very first Svenska Cupen, a tournament of Sweden's very best CS:GO esports teams, held by Fragbite at the Space Arena in Stockholm.
This design took inspiration from the tournament logo, but by recreating it as an almost flat design, the trophy takes on an almost 2D effect.
This juxtaposition of 2D and 3D creates a really interesting interplay between the design of the logo and the award.

FA Women's National League Awards
2022 was a glorious year for women's football – complete with that astounding win for England at the Euros! So EFX were delighted to be chosen to design a range of trophies for the FA Women's National League Awards.
One of the most interesting elements of this project was reinventing the traditional "gold, silver and bronze" style of award tiers, and creating a new range of trophies that were each unique, but in perfect keeping with the other awards.
The final designs included two laser engraved and digitally printed awards, one in black acrylic and brushed aluminium, the other in full printed black acrylic, and a smaller black acrylic award focussed on the logo.
Soho House Awards
The most original award we've created in 2022 simply has to be the Soho House Award, in the shape of their iconic Picante cocktail.
Everything from the glass to the coaster – and of course the chilli pepper were faithfully recreated in this trophy design.
Looking at photos from the event, we were very pleased to notice that it's almost impossible to tell whether people are holding their award – or their drink! 
Looking forward to all the awards of 2023!
At EFX we've had an amazing year of exciting projects, fun designs and really prestigious awards.
We're really looking forward to rewarding more amazing people with amazing trophies in 2023!
And of course, if you've got a recognition event, competition or awards ceremony coming up, we can help you create the perfect trophy design – just get in touch to find out more!