Acrylic Awards
Almost anything is possible when designing an acrylic award or trophy, from colour and shape, to finishes and personalisation, let your imagination run wild!

Bespoke acrylic awards
It might seem like a plastic award might not have the level of sophistication of metal or glass, but with EFX, your acrylic award can be as stunning, impressive and elegant as anything made in gold, silver or crystal.
Our experienced design team can help you create a unique design for your acrylic trophy, ensuring that it's the perfect material for your needs, and giving you options, suggestions and creative input too.
Are acrylic trophies sustainable?
They are with EFX! We can use 100% recycled acrylic for our trophies, subject to design and budget, making it one of the most sustainable materials you can use for your award design.
And not only do EFX have 100% recycled acrylic available for your award, our manufacturing facility is also as eco-friendly as possible. We use recycled packaging, have solar panels for power, and use our own on-site waste water treatment to prevent any chemicals entering the local water supply.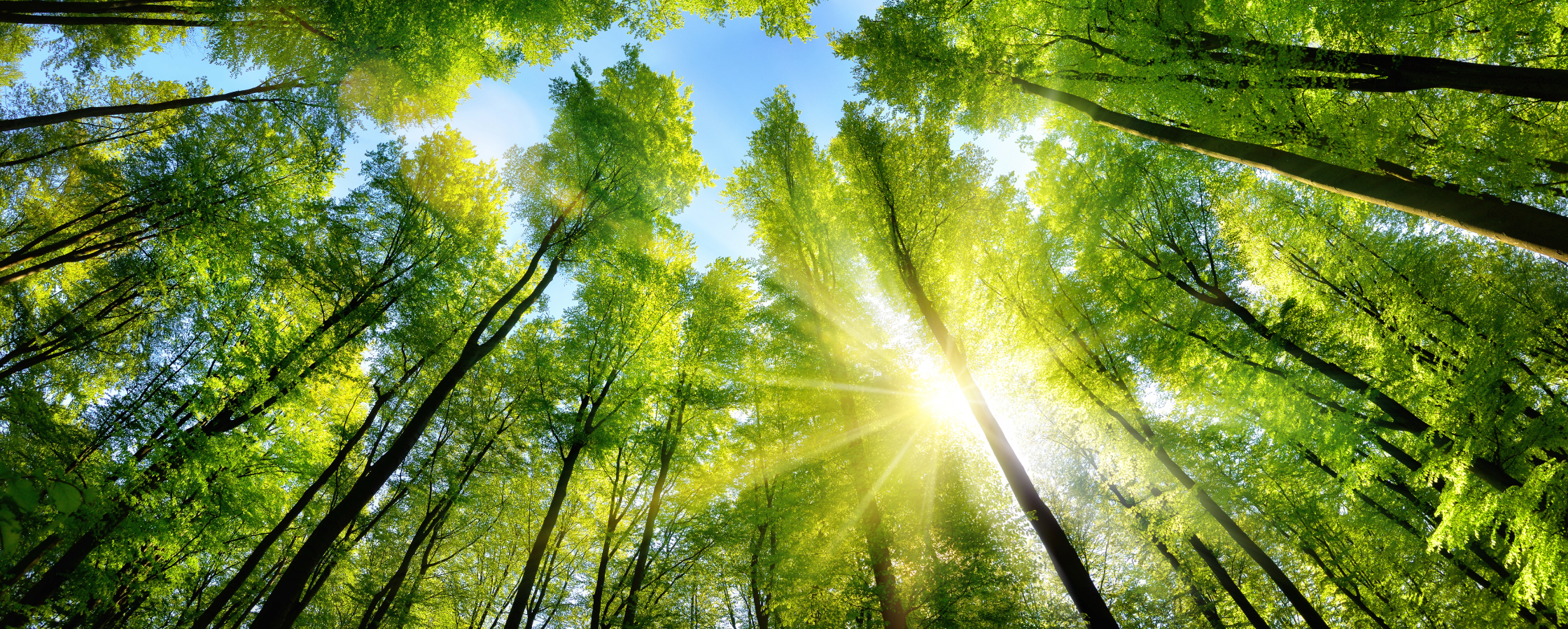 EFX are committed to sustainability
We're supporting carbon reduction and sustainability projects across the globe, find out more.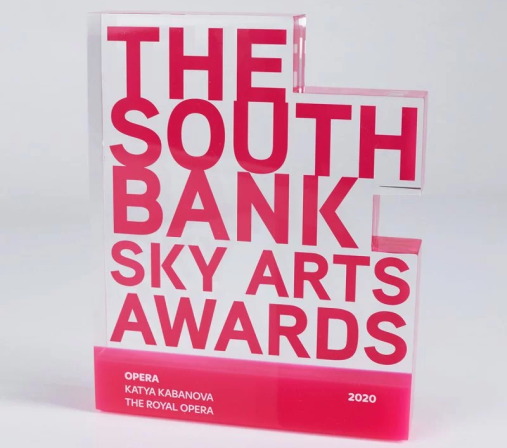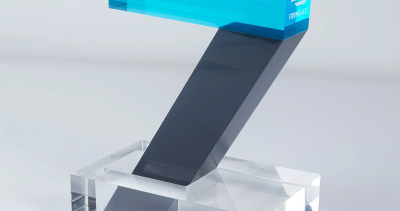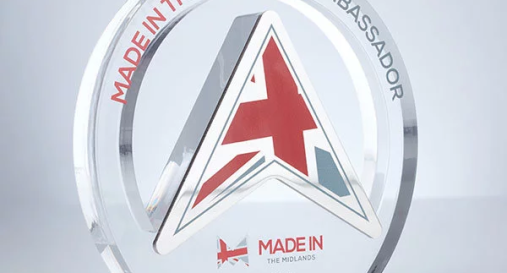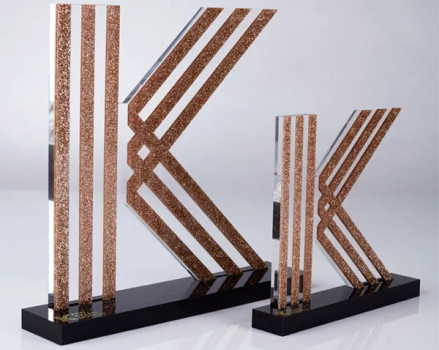 Why choose an acrylic trophy?
Acrylic is a fantastic choice for your award or trophy, not only does it open up a whole world of possibilities in terms of shape, style and design, but also in colours and finishes too.
Acrylic comes in various levels of opacity, and clear acrylic is a very popular material - particularly when used in combination with coloured acrylic or metal - creating intricate designs which have multiple layers and aspects.
It's also a fantastic base for digital printing, and EFX have created many acrylic awards that are the base for highly detailed printed designs - including illustrations.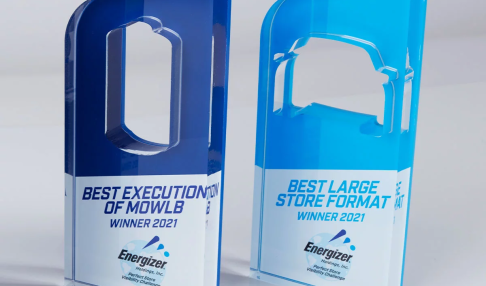 What's the difference between an acrylic and plastic trophy?
Acrylic is a high quality form of hard plastic, so technically acrylic trophies ARE plastic trophies. However, they are a far cry from cheap, mass produced plastic awards that you might get as a novelty.
In fact, some of our most intricate, impressive and high quality trophies have been made in acrylic.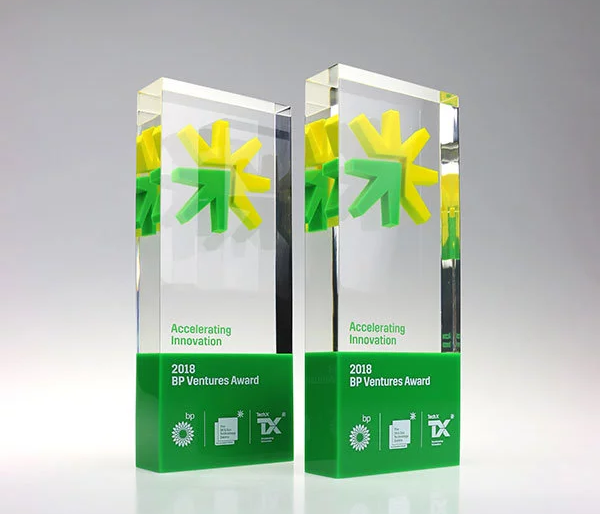 Personalised acrylic trophies
Your acrylic award design can also be personalised with:
The year or date of the award

Any other details you like!
Our expert engravers use laser engraving and digital printing to personalise your trophies in the perfect style.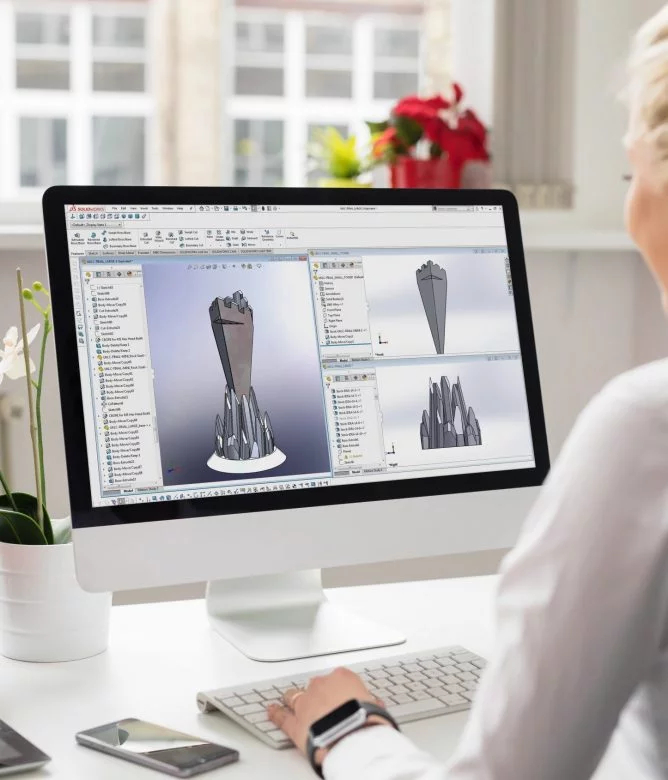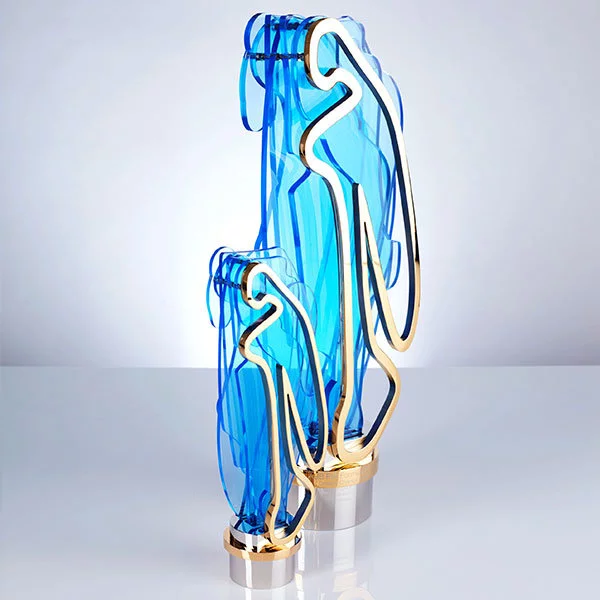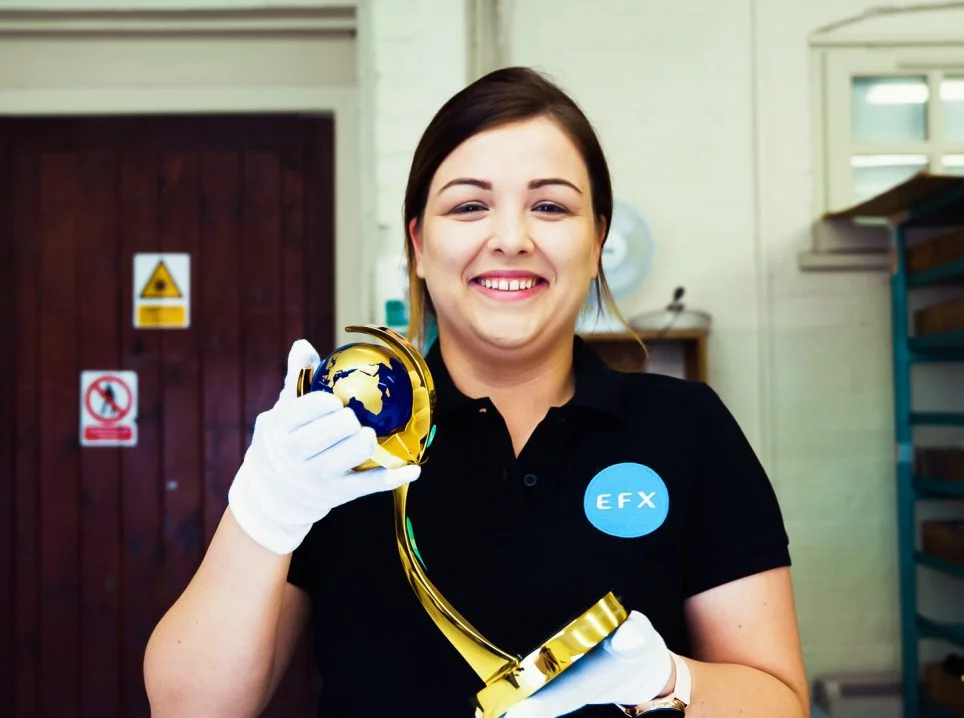 How EFX make your acrylic award
Once you've decided on your final design, the EFX manufacturing team starts the process of turning it into a reality.
With a huge range of different machines and expert craftspeople, we can create your award on site, using the very best method for the design, whether that's using water-jets or lasers for cutting.
We also complete any personalisations, such as digital printing or laser engraving, and assemble each trophy by hand, ensuring we can do a triple-check and final polish of each one before they're sent off to be packaged.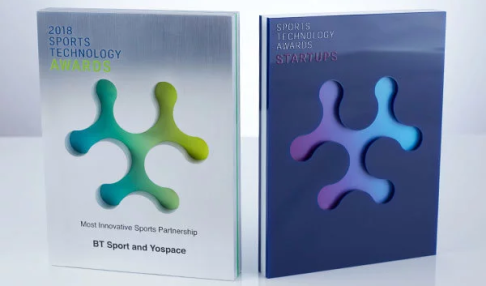 How to order your acrylic trophy
Ordering a bespoke acrylic award with EFX is easy, just fill out our form with as much detail as you can, such as the number you need, your budget and any artwork you'd like us to use, and we'll be in touch to talk about your free designs!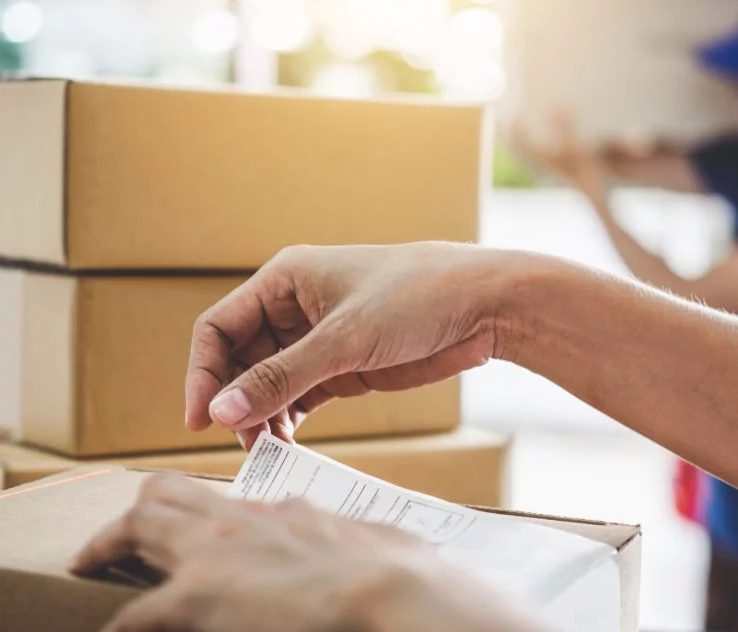 Packaging and delivering acrylic awards
At EFX we use recycled and sustainable packaging for our trophies, including recycled bubble wrap and sustainable packing tape.
We use a next day courier service as standard for all UK mainland deliveries, and have options for international, rush or multiple location deliveries.
We gave EFX a brief to come up with a slick, modern design worthy of a glamorous awards show of this kind and they exceeded our expectations in terms of design, manufacturing and delivery. The design feels light years away from where we were and looked fantastic on stage with the winners.
EFX, as always, were a joy to work with for the TV Choice Awards. Highly efficient, thorough and committed, they always produce stunning awards for each of our award productions.
It was a pleasure to engage the lovely team at EFX in helping develop the graduates' dynamic ideas. EFX brought this ambitious project to life.
We see our IWC/EFX Trophies all over the world in vineyards, retailers and wine trade offices in prominent positions…EFX have supplied every one of our trophies over this period and we, like our customers, are delighted with them.
The International Wine Challenge
We found Special EFX fast, efficient and easy to work with. They created a fantastic trophy with flair and imagination and a degree of practicality hard to find.
We've had a great reaction to our new look award… Ironically, unlike anyone in this industry, it's 'two-faced' with the reverse side featuring the famous 'Joker' playing cards that have been symbol of the Comedy Awards for the past 20 years.
View all testimonials