FAQ
Have some questions about EFX? Want to know more about how we design and manufacture our bespoke awards? Here are some frequently asked questions to help you find the answers you're looking for.
If you can't see your question, just get in touch, we're here to help.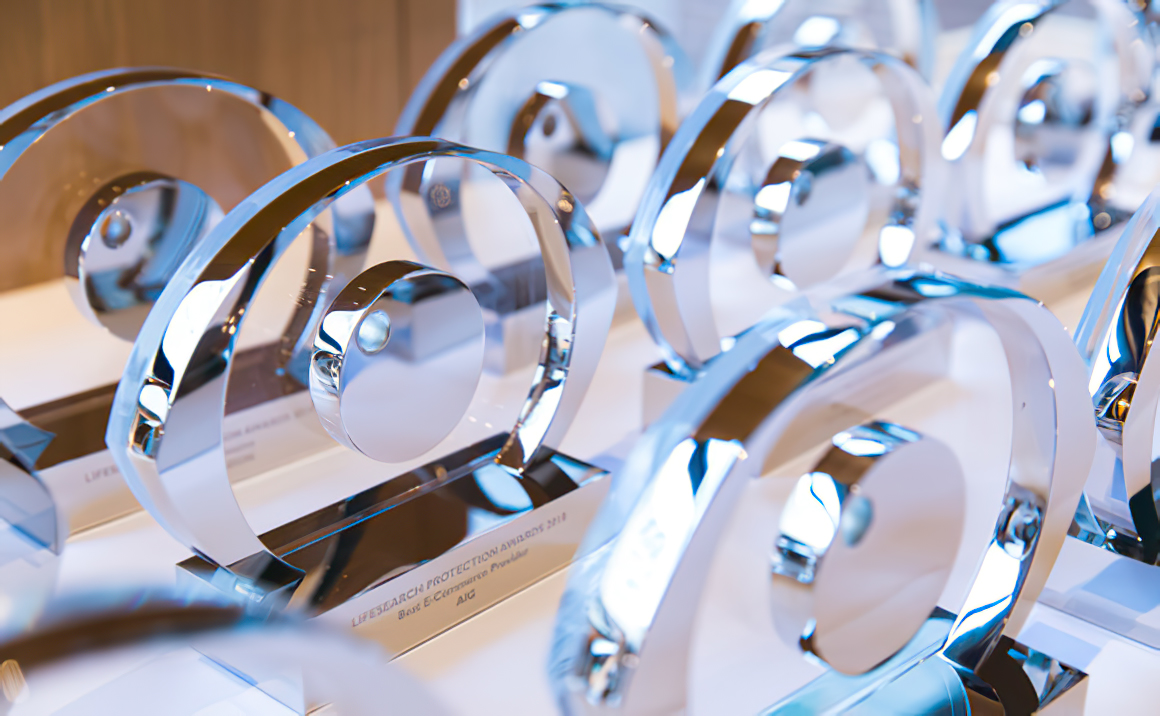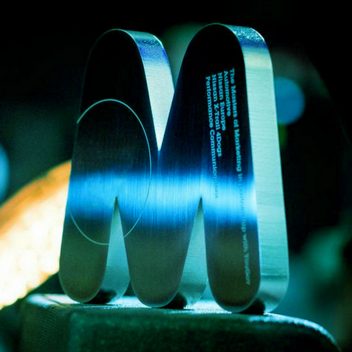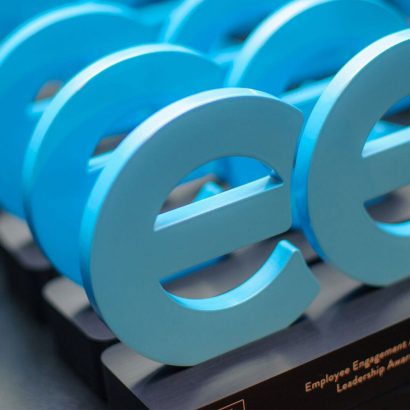 Frequently asked questions
The first step is deciding if you'd like a bespoke or off-the-shelf award. A bespoke award is designed specifically for your event and budget, whereas an off-the-shelf award is typically lower cost or available from stock for a speedy delivery. Our sales team are here to help guide you through the process. You can also take a look at our gallery and news stories to see our recent work for inspiration.

If you'd like to know a bit more, we've got an in-depth guide on how to create a custom award.

In short – bespoke awards are designed and created just for you, they're unique and designed to suit your brand and budget.

Off-the-shelf awards are typically simpler, and can be produced quicker and at a lower cost. Off-the-shelf awards can be customised, but the options are more limited than for a bespoke award.

If you'd like to find out more, have a look at our guide to all the differences between personalised and bespoke trophies.

If a bespoke award is the one for you, then the next step is your brief. Before our studio creates design visuals for you, we need some information from you about your event:

Name of event
Quantity
Delivery date and event date
Type of award or trophy (if known)
Target price
Venue (UK or overseas)
Your logo or themed artwork to be featured (as Vector Artwork, EPS or Al format)
Your brand guidelines (if available)
Level of personalisation (inscriptions of winners' names, sponsor, name of event etc)
Any presentation box requirements

We will then design a selection of unique designs for you to consider, free of charge, and send them over within a few days along with your quote. When you choose the design you really love, which we're confident you will, we then get the ball rolling!

We are proud to offer you a wide range of material options to ensure results that stand out from the crowd and an award that is perfect for you and your event.

Whether you're looking to create something truly unique or want to design a bespoke award or trophy that is in keeping with your company ethos – we can help. The materials on offer when creating a bespoke award are vast, including:

However, we aim to be as accommodating as possible – and we love a challenge! So, if you have a specific idea or brief in mind, don't hesitate to speak with our team.

Creativity is at the heart of everything we do here at EFX, so when it comes to designing your award, the sky's the limit! From the material, trophy shape and colour to those finer details and any personalised engraving, you can be as detailed as you'd like. Have something specific in mind? Contact our team to get the ball rolling!

Absolutely! We have been designing and manufacturing bespoke awards and trophies for well over a decade now and, in that time, we have collaborated with individuals from a huge range of industries to create awards celebrating employee achievements, company successes and industry excellence.

From e-games and TV to corporate and nature, there's not much we haven't dabbled in, and our skilled team are proud to say they can put their hand to anything. So, whether you have an idea in mind or are starting from scratch, get in touch with us today to discuss your needs and let us know more about your industry. Together, we can create a truly unique bespoke award to suit your event.

We appreciate every award event has its budget and we always endeavour to create a design that is exceptional, on brand and at the all-important desired price. Costs of awards vary depending on the type of material, number of components, complexity, size, how long it takes to cut, machine, drill and tap, polish and electro plate, the amount of engraving/printing and personalisation and how long it takes to assemble and clean and pack.

Our designers' expertise and knowledge of our processes, materials and engineering capabilities mean we can give you a high quality product that gives your winners the feel-good factor.

You will receive accurate proofs as part of the design process. Rest assured, nothing is produced until we get written approval from you. We manufacture at our works here in the UK and are therefore able to offer short lead times and visibility at all stages of production. It also ensures we have complete control of quality and can provide the flexibility of service that you require.

We can personalise your awards and trophies with the winners' names, sponsor details
and relevant logos. We laser engrave or UV print these at our production facility in the UK.

For laser engraving we request confirmed text two weeks in advance of despatch and three weeks in advance for UV printing. However we can work with you and be flexible to suit your judging dates.

Please supply your logo or artwork in Vector format (.pdf, .ai, .eps). When your artwork or logo is in a vectored format, it allows us to increase or decrease the size of your logo or artwork without compromising the integrity of the original image. The end result is a crisp, clear, and readable image and ensures we have complete flexibility when designing your award, and that the final product is of the best quality. Vector artwork is normally available from your design or marketing department.

Please supply your final winners text as a word document or in the body of your email, formatted as you would like it to appear on your award. You will receive a full set of proofs for sign off. We make sure nothing is engraved until we get written approval from you.

Visit our artwork guidelines page for more details.

Subject to time and available budget, a pre-production sample can be provided; alternatively, we can create a 3D visual or a loan sample of similar finishes for approval.

Our typical lead time for a bespoke award is 3-6 weeks due to the complexity of the manufacturing process. For off-the-shelf, speedy solution awards we can usually deliver within 2 weeks, subject to stock availability.

We deliver worldwide using our network of trusted couriers. We can also provide multiple location delivery, which is perfect for virtual events.

We can pack and ship awards to your winners direct, across the UK and around the world. It's an add-on service but one we've taken in our stride. We've always excelled at attention to detail and being flexible and can now arrange the following services to help your event run smoothly:

Direct delivery to individual winners – we will send you a template to enter the winners' names and address information
Quotations from international couriers
Creation of export invoices
Quotations for tax and duty
Eco-friendly packaging
Colour printed congratulatory letters

Yes. Each production department, from machining, to polishing, electro-plating, engraving, printing, assembly to final QC and pack & despatch, is responsible for quality control at every stage of the process. The approved trophy designs are visible to all teams and this is the master we all adhere to.

Choosing a 'sustainable' award or trophy design reveals ethical and caring company values. Our aluminium is 79% recycled and we also work in sustainable wood, stone, recycled plastic and preloved components such as tech-appealing circuit boards.

All our awards are carefully packed using eco-friendly packaging including boxes that can be reused or recycled, paper tape, recycled green bubble wrap and biodegradable loose fill. You receive your awards in perfect condition, whilst we help to make a positive contribution to the environment.

You can read more about our environmental policies on our sustainability page.

As most of our awards are unique we don't offer a presentation box as standard but if you would like one we can make a presentation box specifically for your award, at an additional cost.

We also have a range of presentation boxes that are perfect for our off-the-shelf awards.

If your ceremony is an annual event ordering more than 1 year's worth of trophies is a great way to reduce your costs. We will safely store your awards for you, then personalise and despatch your awards as you require them.

If you choose to work with EFX there is a promotional opportunity for your events to be featured in our monthly newsletters which go out to over 10,500 contacts. We get in touch with you after you have received your awards, we absolutely love to hear your feedback! Then we simply draft a piece for your approval, before the story goes live. Many clients appreciate this free publicity.

We can also help promote your event ceremony through our social media channels – Instagram, Facebook and Twitter.

Ordering your bespoke award or trophy is a really simple process. You can get the ball rolling with our quick and easy Get a Quote form, which asks you a few questions about your event and the sort of award you're interested in.

Then one of our friendly team will be in touch to find out a little more, and to start working on your initial free designs and your quote. Once you've approved your final design concept, we can then create your bespoke award!

And ordering an off-the-shelf award is even easier! Just select the award you'd like to order, click the "Get a Quote" button and fill in the form. We'll send you a quote as soon as we can and once you're happy, we'll personalise and send out your off-the-shelf awards.

Once your order has been manufactured, we offer next day delivery to the mainland UK, as well as international courier delivery, or we can arrange for delivery on a specific date to your event location or multiple locations.

Off-the-shelf orders typically take 2-3 weeks to complete, from the day you make your order, to the day your award is delivered.

Bespoke awards typically take a little longer, from 4-6 weeks from the date of your initial order.

If you need your awards faster – just let us know and we'll let you know if we can meet your deadline, as well as the best options for getting your trophies quickly.

If you'd like us to include your logo or any other artwork on your trophy, then we have some Artwork Guidelines for you to follow.

And of course if you have any questions, or need any help sending over the right artwork or files, just get in touch with our friendly team and we'll be happy to help you out!
Free Design and Quote
Our friendly team can help you find your perfect award today