8 Classic and Unusual Trophy Shapes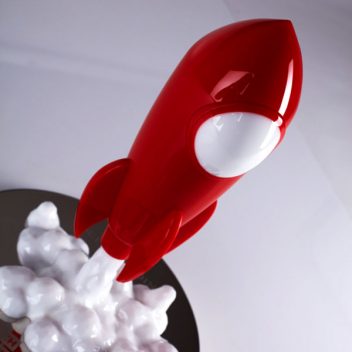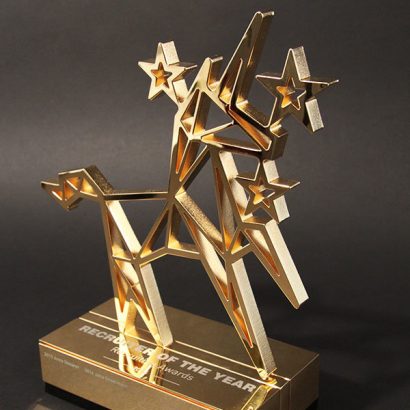 Trophies and awards come in a huge range of different shapes and styles, from archetypal designs to unique, custom creations.
So when you're thinking about your next award, it can be difficult to know what sort of shape is going to be the right option for you. Especially if you want to create something that's a little bit out of the ordinary.
Luckily for you, at EFX we know exactly how to create a bespoke award, whether you're looking for a classic geometric shape, or something more unusual.
So, we've put together a list of our favourite award shapes, including traditional and modern designs, as well as several twists on the classics. We've also included a gallery for each one so you can see how to create unique designs even from similar shapes.
So, let's have a look at the different shapes you may want to consider for your next award.
1. Star awards
Star-shaped awards are probably one of the most popular shapes we come across, and they come in a huge variety of styles and materials. 
Gold star awards and silver star trophies are always in demand, but there's also a rising trend in materials such as wood, acrylic and crystal too.
With a star-shaped trophy, you've also got a lot of leeway when it comes to design. For example, we have some great customisable glass star trophies, like this rising star award, but we also have lots of different designs that incorporate star shapes.
But beyond the ready-made solutions, you could have a custom designed star trophy, which essentially means the possibilities are endless! Here is a selection of our favourite bespoke star award designs, which use the shape in innovative and exciting ways.

2. Shield trophies
When you're looking for a shield trophy design, there are some classic styles that are always popular.
This shape is often chosen if you're looking for a perpetual award that can be engraved each year with the names of new winners. 
Another popular option is a trophy shield plaque which can be hung on a wall. This honour board style is often chosen for golf club awards, or other sporting clubs to display the winners of their most prestigious events.
3. Heart awards
Hearts are always a great shape for awards, and can come in a lovely variety of styles from crystal heart awards to bespoke aluminium trophies.
Hearts are a particularly good shape for bespoke awards, as they're incredibly versatile. You can use them abstractly, like in this gold heart trophy for Love Travel, or more overtly, such as Variety's Hall of Fame award in aluminium and acrylic.
4. Spherical, round and globe awards
Round awards come in a pretty wide variety of designs, from ball-shaped trophies to circular awards.
Globe awards and trophies are another popular option, and you can often find ready-made crystal globe awards ready for personalisation, as well as bespoke designs.
One of our favourite bespoke designs is this aluminium and glass globe trophy for the Marketing Society's Brave Award. This is a great example of how your chosen trophy shape can be elevated with a unique design and a combination of complementary materials.
5. Pyramid and cube trophies
Solid shapes like cubes and pyramids are really popular and are surprisingly versatile when it comes to style and design.
Pyramid and cube trophies can come in anything from crystal to acrylic. And bespoke designs can even combine materials for a really original look, like this crystal and gold-plated aluminium pyramid trophy for the Car of the Year award.
But they're also a great choice for ready-made, customisable trophies, like this glass cube award that is easy to engrave and personalise. 
6. Awards with natural shapes
So much inspiration can be found in nature, and when it comes to trophies there are all sorts of ways you can incorporate natural shapes into your designs.
For example, a leaf award can be completely different depending on the material you use. A leaf trophy in aluminium creates a completely different style and feel to one created in wood – even though it's still using the same natural inspiration.
You can also choose to create a more abstract design from your natural shapes, giving a whole new dimension to consider for your awards.
We even recently created awards in the shape of a dog's pawprint for the Thin Blue Paw foundations awards to recognise paw-fect police dogs!

7. Number and letter awards
Lots of trophies incorporate letters and numbers, and many actually take the form of alphanumeric shapes.
These are brilliant to work with as a designer, as creating word or number shapes also brings in the exciting possibilities of different fonts as well, which adds another level of creativity into the mix.
Here's a selection of some of our favourite alphanumeric awards, as you can see, the variation in materials, colours and design really do make these great shapes to base your designs on.

8. Unusual trophy shapes
We've gone through a range of classic shapes so far, but here we come to a selection of shapes that are a little out of the ordinary.
Ever considered a rocket trophy, a house shaped trophy, a guitar shaped trophy or maybe an award in the shape of a robot?

You can even use shapes from the real world as inspiration for your trophy design, like this award for Bicester Village based on their famous Porridge the Bear statue. Or, go more abstract like the recent Pride of Britain awards which incorporate a winged figurine and the iconic Union Jack flag.
When you choose a bespoke award design for your event or competition then you can base the shape of your trophy on pretty much anything that inspires you!
Choosing your trophy shape
Now we've gone through some of our favourite shapes for awards, it's easy to see the massive variety of designs you can achieve – even from the same shapes!
So whether you're after an acrylic star trophy or a spherical, ball-shaped golf trophy, you can still get a personalised or bespoke award that really stands out.
And don't forget, there's also a great range of off the shelf award designs ready to go, so whether you want something quickly that's easy to customise, or a creative design process that results in something truly special, choosing your shape is just the first step in the journey.
And if you're looking to find out more about designing a bespoke award, the expert team at EFX are here to help! Request a quote for your unique award design and we'll be in touch as soon as possible.