BEEA Honours the Best with Top Engineering Awards
Client News
20th October 2017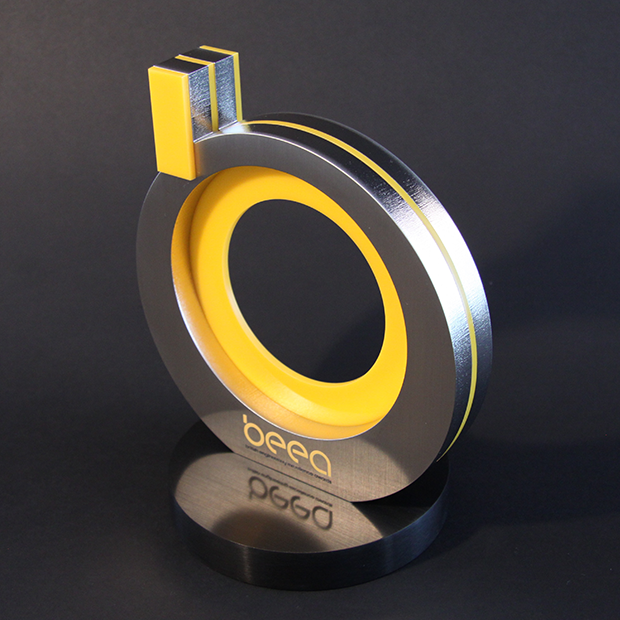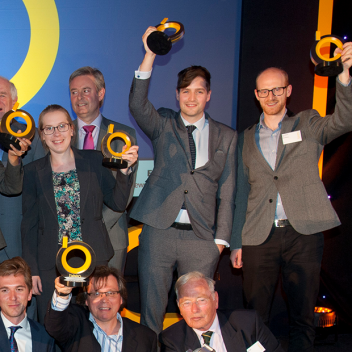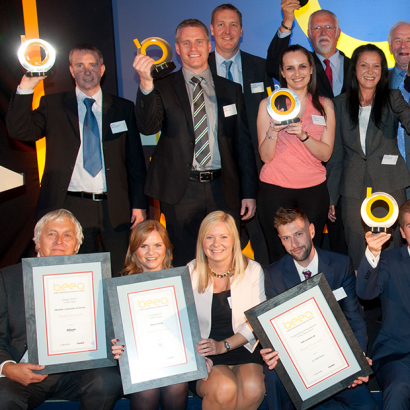 When you cast your eye down the list of winners of the British Engineering Excellence Awards 2017, it is heartening to realise the outstanding talent and level of innovation which are present in the sector. Held at The Honourable Artillery Company in the City of London, 5 October and organised by M.A. Business, publishers of New Electronics and Eureka magazines, the Awards embraces a complete cross-section of engineering-related enterprises and organisations, from small start-ups to global giants.
The organisers commissioned Special EFX to create a new trophy design for this year's event. "We wanted a fresh, contemporary feel to the awards, which had run with the previous design for seven years. The EFX team was helpful and supportive throughout the re-design process and met the brief brilliantly."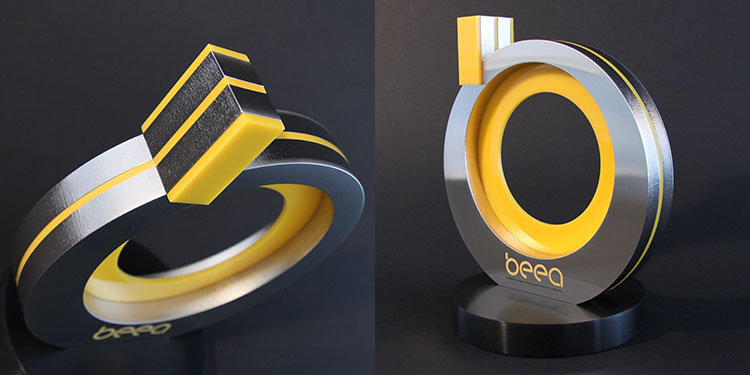 Metal and acrylic trophy design for engineering awards
The design selected majors on the "B" of the BEEA logo, achieved in brushed nickel plated aluminium, with an inner yellow, acrylic centre and standing on an anodised aluminium plinth. The graphics feature a combination of digital printing and laser engraving – precisely applied to the surface of the plinth. The resulting trophies realised the client's brief: "The British Engineering Excellence Awards are well respected within the industry and the award has to match our guests' expectations. The final design provided a high quality, prestigious award that the winners were proud to receive".
The winners presented with trophies on the day were diverse in nature and size. They included Open Bionics (Start Up of the Year), which develops affordable, robotic prosthetics, Aeritech Scharger (Mechanical Product of the Year) for its sCharger which provides a power boost to small engines and hybrids without the compromise of turbo-lag and Artemis developed by Smith Myers (Aerospace Product of the Year) which addresses the issue of searching for a missing person in a large area using innovative mobile technology. Meanwhile, Iulia Motoc of the University of Kent was honoured (Engineering Ambassador of the Year) for her passion and enthusiasm, motivating the next generation to take up an exciting career in the sector.
From automotive awards to golf trophies, we pride ourselves on creating unique, bespoke awards and supporting you from the initial designs right up to manufacture and distribution. If you're thinking of creating a custom award for your next event, contact the EFX team to find out how we can help.