Who's Who of Motor Industry Awards
General News
17th April 2015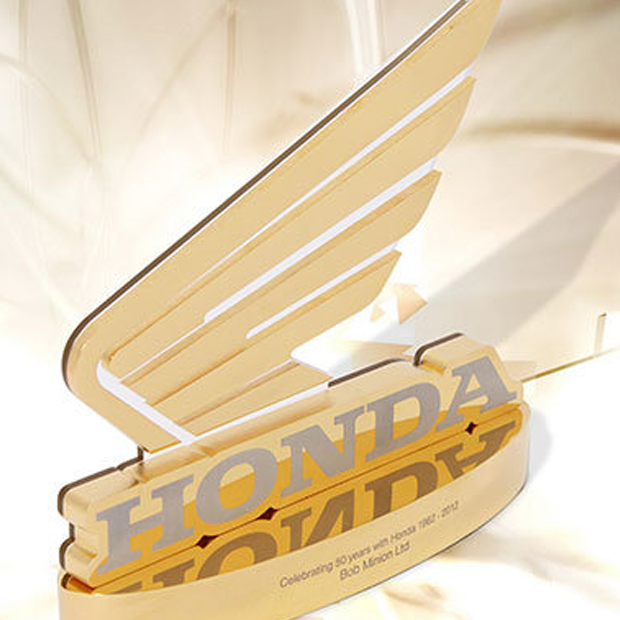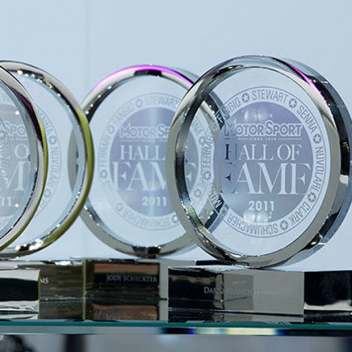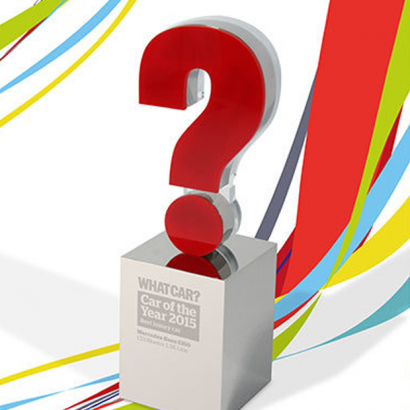 It seems the UK motor industry is on a roll. Over one billion pounds of investment has been announced by Jaguar Land Rover, Honda and Geely (makers of London taxis). And much of it is coming here, into the West Midlands. As a UK manufacturer (be it small in comparison to the mega car companies), it is heartening to hear of major investment paving the way for more growth, as that has certainly been EFX's strategy these last few years.
Annually, EFX produces hundreds of bespoke motor industry awards and trophies for many of the global brands. Servicing the likes of Jaguar, Honda, Mercedes Benz (UK) Van and What Car? has been one of the key drivers behind our own continual investment in cutting-edge, digital laser print equipment. Replicating high profile brands on glitzy awards, which can then stand up to the scrutiny of being presented live on TV and being featured in the press, is one very good reason why EFX has to continually invest in the latest technology, if we are to continue to succeed.
Famous Motor Brands Accurately Replicated
We design and manufacture at our site near Stratford-upon-Avon. It is heart warming when I see components of celebrated logos, such as the Honda "wings" or What Car?'s famous question mark, progressing through the different production areas. Precision is the word. When we are turning such famous logos into large size awards, which will be around for decades to come, there is no leeway for anything other than top quality and complete accuracy.
The latest award we produced for the motor industry was the What Car? Car of the Year Awards. That red question mark is legendary. We produced it out of acrylic, which we then mounted on gold plated, engraved plinths. Winning manufacturers proudly display them and they are featured in no end of advertising and marketing campaigns. Winning one of those is a top accolade indeed!
A fascinating commission was for The Historic Sports Club (HSCC). It wanted to create a whole new set of trophies, capturing the prestige of its racing series and heritage. Amongst these was a new marque trophy, featuring the iconic Jaguar cat emblem. There was another which involved making a sentry box for an antique silver guardsman for the revival of the HSCC Guards Trophy. We are pushing boundaries and breaking new ground in trophy designs, daily. We also created a retro styled trophy for the International Historic Motoring Awards (HMA), which was presented to Murray Walker.
New Models Turned into Luxury Gifts
A spin-off of producing authentic replicas of car emblems for the awards me manufacture, is that we also get approached to design and manufacture luxury gifts. These are model cars manufactured in sleek, nickel plated aluminium, which reflect the shape of a newly launched luxury car and are presented to customers, on ordering.
Motorbike Awards
For several years we have produced the podium trophies for the high octane British Grand Prix (MotoGP), held at Silverstone. Each year, the studio brain storms and comes up with a stunning new design to endorse the razzmatazz of the event. We are also expert at replicating the Honda Wing logo, which we water-jet cut from solid aluminium and then plated in gold.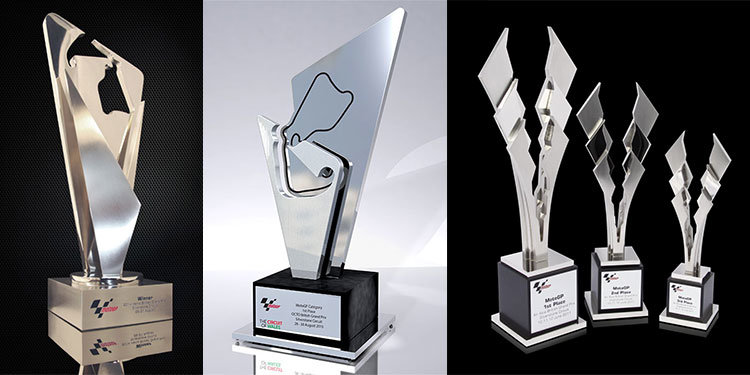 And so the list goes on…
If you are thinking of commissioning a bespoke trophy and are able to come and visit our works, please let us know. We always love showing visitors around.  They are invariably taken aback to find we are such a high-tech manufacturing company in such a rural setting.