The Perfect Retirement Gift Complete with its Own Red Carpet
Client News
21st February 2016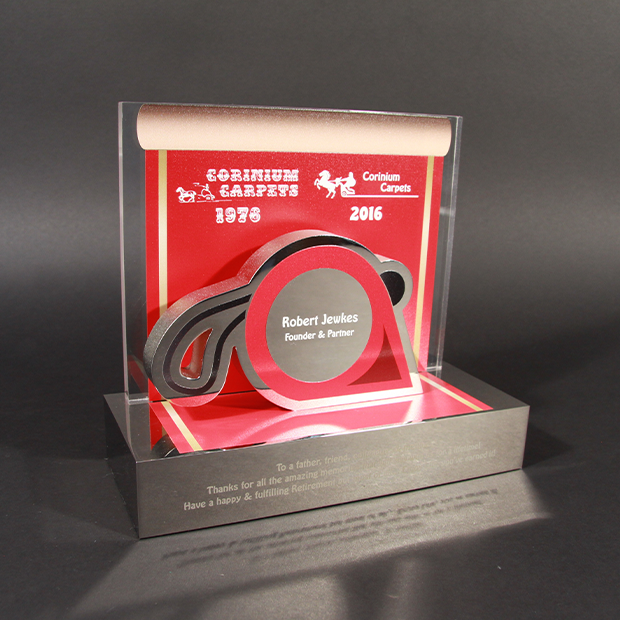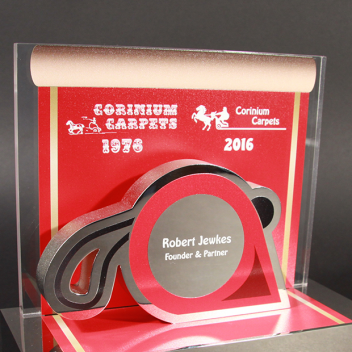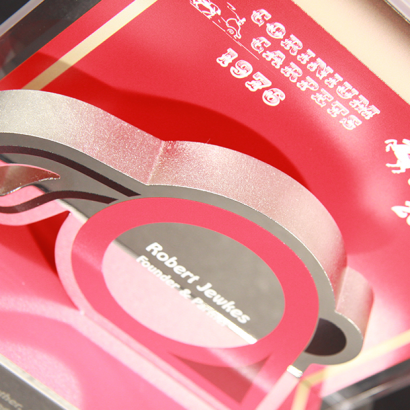 How do you mark and suitably honour the retirement of someone who has been exceptional? Joe Jewkes Managing Director of Corinium Carpets approached EFX for the solution when his father Robert retired after 40 years from the family owned carpet business. The resulting commemorative gift is a unique and personal accolade to a special man.
The design of the award captures the essence of Robert's career, which saw him successfully establish and grow Corinium Carpets in Cheltenham. No self-respecting carpet salesman would go anywhere without the means to measure up a floor and so the ubiquitous tape measure is a key design element, made in nickel plate and attached to a printed acrylic backdrop featuring a roll of carpet – red, of course! The two company logos that topped and tailed his 40 year span with the business are digitally printed and a personal tribute is likewise printed and laser engraved on the solid aluminium plinth.
Unusually, on Wednesday 27th January Corinium Carpets closed for a few hours. Friends, family and colleagues gathered in the shop for the presentation to Robert. Not someone who normally appreciates surprises, Robert's reaction to being presented with such a unique gift said it all – he thought it was brilliant and it is now proudly on display in his living room.