Engraved Glass Awards Reflect Importance of Rubbish
Client News
13th December 2013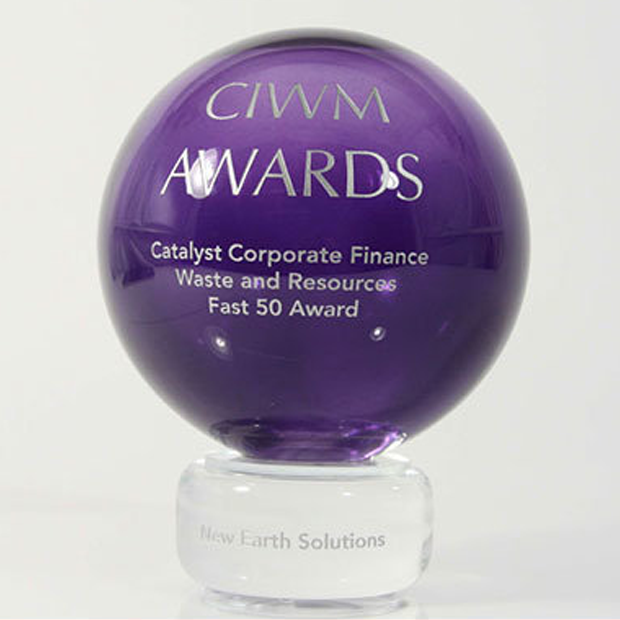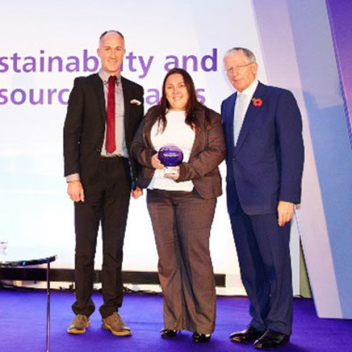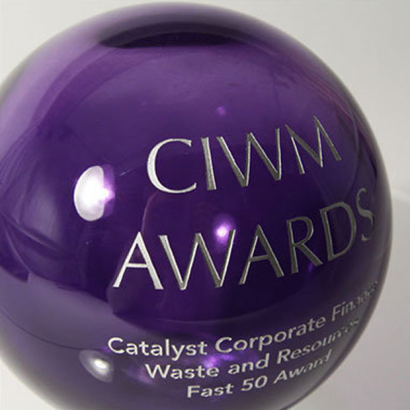 A recent commission to design and make these stunning engraved glass awards for the CIWM aroused my interest. So who or what is the CIWM? And what does it take to be named as outstanding by the organisation and be presented with such a classy trophy?
CIWM reward reduction in environmental impact
I started by investigating the text for the engraving, which was silver engraved onto the purple, glass spheres. The CIWM is the Chartered Institute of Wastes Management and is a non profit organisation concerned with the professional competence of managers in waste management. As a leading professional body, the CIWM not only sets standards but offers a comprehensive raft of member services, including technical conferences, access to training, a journal, member briefings, answers to technical queries and much more.
The annual CIWM Awards for Environmental Excellence recognise and reward companies that have successfully introduced processes and schemes which reduce their environmental impact. The winners for 2013 were announced at the London Marriott Grosvenor Square Hotel, in early November, at an awards ceremony hosted by TV presenter Michaela Strachan.
Silver engraved glass awards
The categories of awards are often provided by a client when they first discuss a brief to create their trophies. On this occasion, the 11 categories were all sponsored, which meant that each of the purple glass spheres required personalised engraving, in addition to the plinths, which featured the names of the companies and organisations who had won. Categories included awards for innovative practice at both small business and international level, plus recognition for projects which led to positive change within an entire community, and specific sectors such as energy and local authority.
The list of winners' names for engraving is always the last piece of information which is supplied by a client and can be illuminating, as is the case for these particular engraved glass awards.
Caerphilly cleans up
In the case of Caerphilly County Borough Council, it was named this year as a winner for its commitment to improving recycling and re-use. The headline: "Caerphilly Cleans Up " sprang to mind, on reading that it had turned its 2007/08 recycling rate of 26.9%, one of the lowest in Wales, to an outstanding 59.9% in the first quarter of 2012/13.
Turning used cooking oil, on a massive scale, into biodiesel won Biffa IRM and biofuel producer Convert2Green anther one of the 11 awards: The ERM Energy Recovery Award. The mind boggles at the numbers…Biffa IWM set up an agreement with Convert2Green to collect used cooking oil from its customers such as Birds Eye and Gatwick Airport for conversion into biodiesel. The partnership is now collection over half a million tonnes of cooking oil annually, which is turned into over 350,000 litres of biodiesel for use in both Biffa's municipal fleet and some of its clients' fleets.
The CIWM Awards have made me think about a topic I have never really considered – waste. Now I realise those blue, green and brown bins at home are a vital element in a huge industry.
Save