Sustainability Strategies Receive Recycled Award Design
Client News
4th February 2022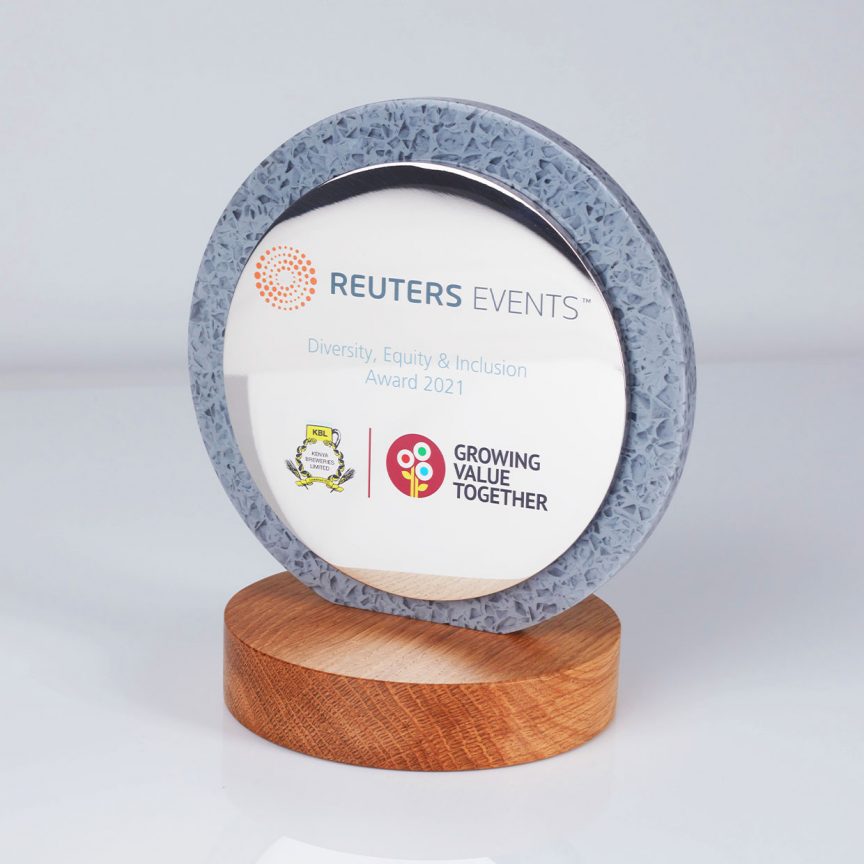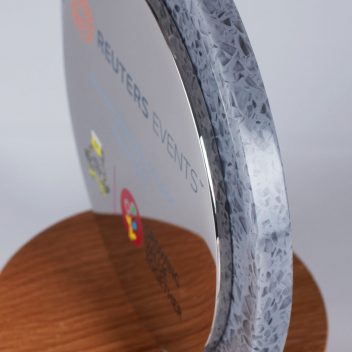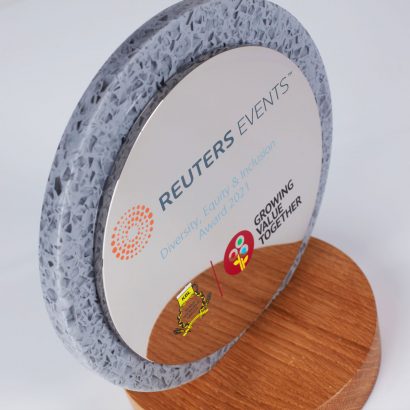 Ethical, Sustainable, Eco, all crucial words and processes for the future of our planet. We're hearing these key words more and more in the process of making awards too. Clients want their awards to be more sustainable, eco-friendly and are conscious of the award's footprint. We are always more than happy to oblige and have a variety of  sustainable materials we use to achieve this, like wood, recycled plastic/acrylic, and stone.
For the past 13 years, Reuters Events Responsible Business Awards have recognised the efforts businesses are making to become more sustainable, and are the world's leading awards celebrating leadership in sustainable business. Shining a light on the very best projects across multiple sectors, these awards acknowledge successful sustainable strategies and celebrate those that have made a big impact on business, society and on the environment. The Reuters Events' Responsible Business Awards recognise those who are challenging the status quo and driving the industry forward to deliver a sustainable future for all.
Rewarding sustainability like this is such a great initiative as it encourages others to do the same. Hopefully seeing the energising boost, ambition and impact it promotes within these teams, it will inspire more individuals to take the favourable sustainable path in challenges ahead.
The event took place virtually and was judged by an extensive panel of experienced executives from leading corporate, media and academic institutions, choosing the best responsible business strategies locally and globally to win on the night. Not only did they win awards, but it is also a great platform for those individuals to network and discover the latest technologies and operational moves used by likeminded companies.
Sustainable Design
The acrylic and wooden award features a recycled grey chip acrylic and oak wood combined with a high shine aluminium disc for the all-important winner's details. Recycled acrylic creates a great speckled effect, with the option of many different colours, from grey through to multicoloured to suit your preference. Winning categories included, Future Pioneer, Social Impact, Biodiversity Champion, Business Transformation and Sustainability Trailblazer!
Read more about the Responsible Business Awards 2023
We really value our happy repeat clients, Reuters Events had this to say about working with EFX. 'We have worked with EFX previously and have continued to do so due to their flexibility, the quality of their awards and the great customer service we have received'