The Special Karting Trophy that Keeps Joe's Memory Racing
Client News
15th February 2018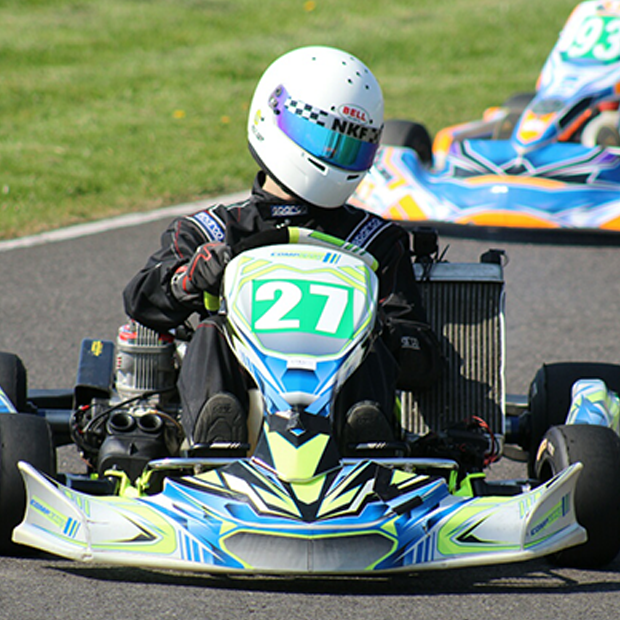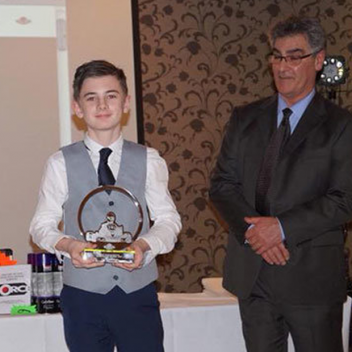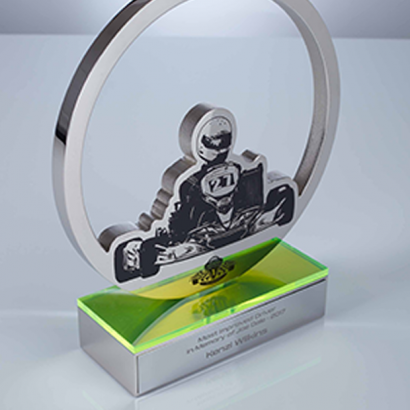 At the recent annual South Yorkshire Kart Club Presentation Evening, there was a distinctive new karting trophy in the line-up, which was awarded for the very first time. Created in memory of youngster Joe Dale, enthusiastic kart racer who is featured on the trophy driving his memorable CompKart, the trophy recognises The Most Improved Driver. Joe passed away and his Dad Jon contacted EFX to made the special trophy as a "nice way of keeping his memory racing".

Rendition of photo achieved with digital printing
EFX uses the latest, digital print technology and this means that an actual rendition of Joe racing his much-loved CompKart is reproduced on the front face of the trophy, driving through a shining band of nickel plated aluminium. The touch of vivid fluorescent green that overlays the base matches the racing colours of Joe's kart and is created in transparent acrylic. The winner's name is engraved on a metal plate, attached with magnets, which can be updated each year. The first ever winner is Kenzi Wilkins, shown in the photo receiving his awesome trophy.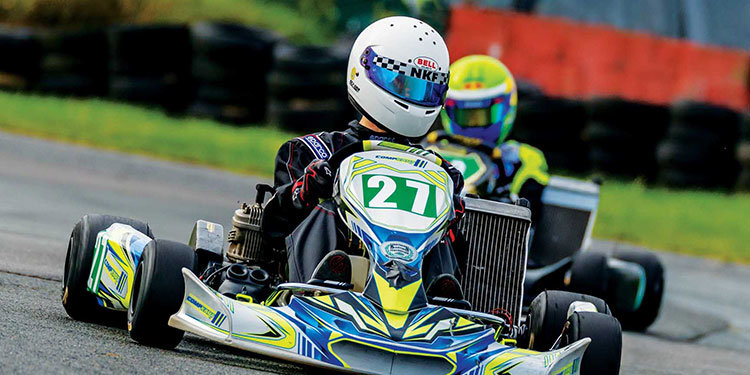 Joe's love of Karting dates back to when he was just aged four and started to watch Formula 1 on TV with his Dad. An Alonso fan, which Jon recalls was as much to do with the blue colour of Alonso's car as Alonso's racing skills, Joe set his sights on having a go himself. His first experience of proper Karting was at the Raceway Karting in Pontefract, which proved an irresistible thrill, and it was at Wombwell under Mark Baines that Joe started to race. Jon recalls that funding the Karting was always a stretch and his son was probably too nice on the track to win but he just enjoyed the whole scene of Karting. "We did enter the Northern Karting Federation Championship for a couple of years with Joe, and he finished just outside the top ten the last year we did it (2016) so he was competent, in fact pretty good, but never really a front-runner. For Joe his enjoyment was as much about spending days in the Kart awnings, messing about with the friends that he'd made, as racing on the track. He was just a really nice lad and got on with everyone and always raced fair. Always smiling."
The category of "Most Improved Trophy" was chosen by The South Yorkshire Kart Club, Joe's local track and the one where he was a member and spent as much of his time as he could. The trophy turned out perfectly for Jon: "I am over the moon with the finished trophy. It is everything we wanted: original, distinctive and hopefully something that the drivers will always appreciate winning."