National Housing Awards Opt for Sustainable Trophy with EFX's Help
Client News
8th January 2020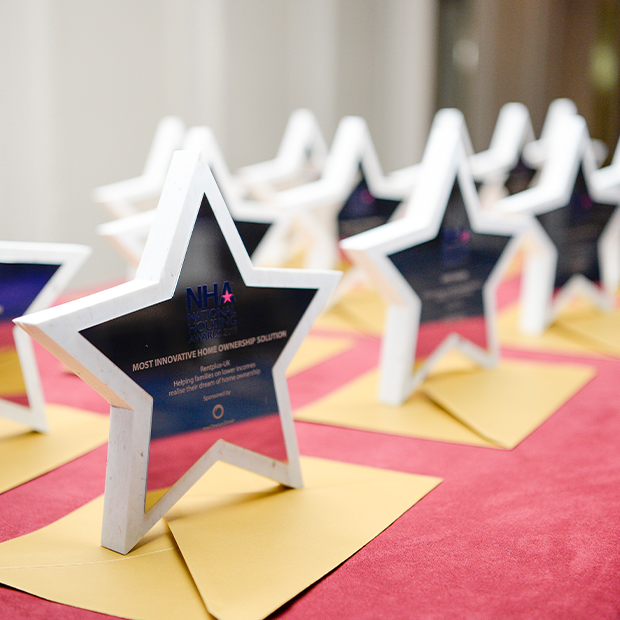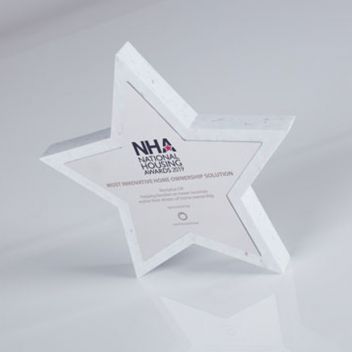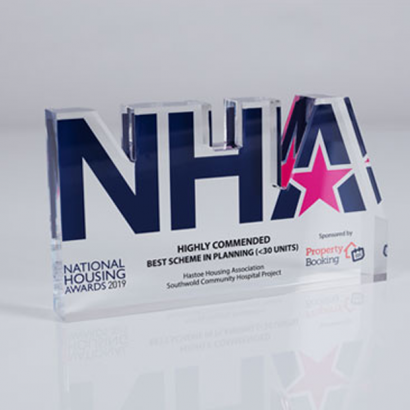 The drive for affordable housing is top of the agenda for many. None more so than the National Housing Federation, which celebrated excellence and innovation in the social housing sector at its annual National Housing Awards (NHA). In keeping with the accelerating, national, sustainable agenda, the NHA organisers commissioned EFX to design a trophy for the 2019 winners, using recycled plastic and metal.
Produced in recycled plastic and metal
The star-shaped sustainable trophies are free-standing, avoiding the need for a plinth or base. The 20mm deep frame is manufactured from recycled plastic material and the central plaque area is produced from recycled metal. Each trophy is personalised with digital printing on the central panel and the winners' details engraved. The eight runners-up were presented with awards produced in clear acrylic, which are digitally printed with the NHA logo. The awards were well-received by the organisers: "Just wanted to say the trophies looked amazing, so thank you for all the design work and excellent service".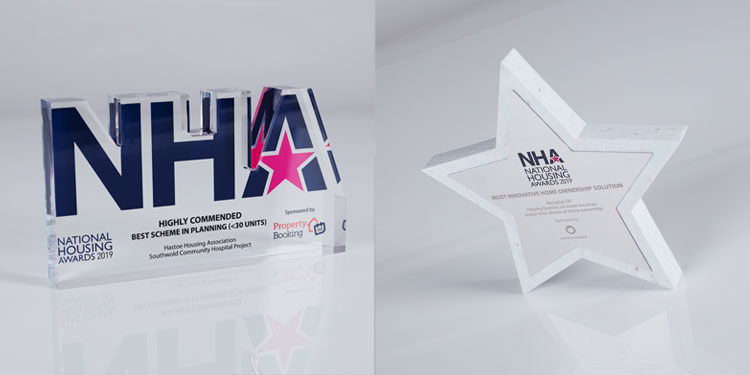 The popular Awards event was held September 5th at Grosvenor House, London, attended by more than 600 guests and compered by the actress and comedian Sally Phillips. On the night, 14 winners were announced. All entries had been considered by a panel of industry experts prior to the event taking place.
The successful projects make interesting reading and demonstrate that affordable housing can include excellent design and create attractive places to live. The Best Design and Overall Winner awards went to Pocket Living and Metropolitan Workshop for their Mapleton Crescent SW18 development, which the judges praised for being "an exemplary project" and "ingeniously constructed using modular construction techniques, which meant it went up at a rate of a storey a day". The scheme comprised a 27-storey tower clad in bespoke blue-green ceramic, creating 89 new homes on a triangular parcel of land behind a shopping centre in Wandsworth, London.
Meanwhile, Onward Homes with charity Housing People, Building Communities and partners were recognised with the Best Partnership accolade for the transformation of a derelict church into 16 affordable homes in Liverpool. The scheme allowed potential homeowners to swap man hours for a deposit reduction. Help for first-time buyers was also evident in the Most Innovative Home Ownership Scheme, which was won by Rentplus-UK and helps those stifled by student debt and a poor credit history to get on the property ladder.