How to Turn Real Estate into Striking Sustainable Trophies of New York
Client News
10th December 2019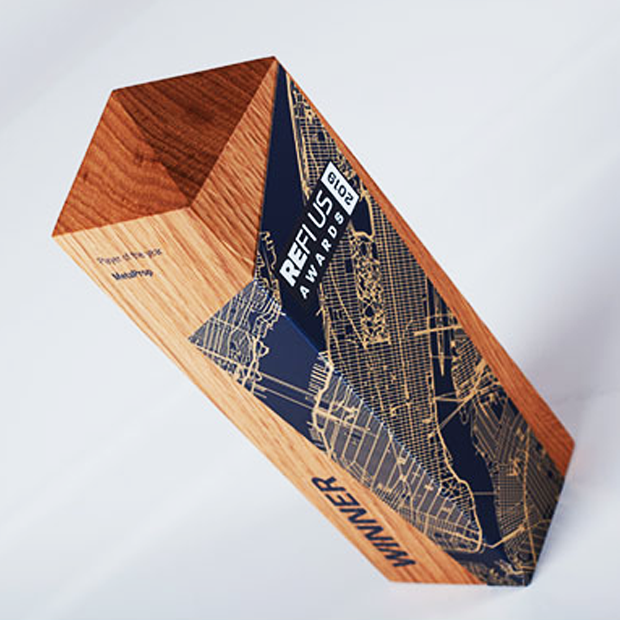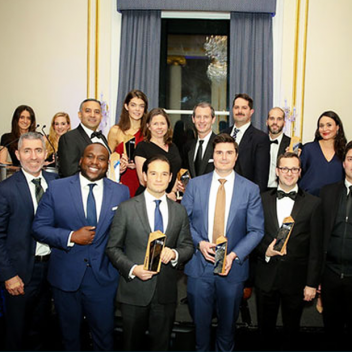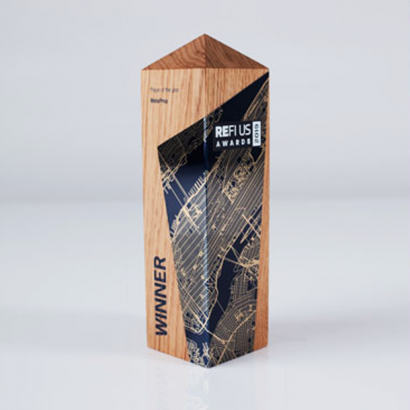 The recently produced REFI US Awards pressed all the right buttons for the organisers. Appealingly modern, representative of the real estate industry in their design, and made from wood, they were well-received and contributed to the organiser's objective of striving to make its events more sustainable.
Sustainable wood and recycled aluminium
REFI (Real Estate Fund Intelligence) has a global membership and the annual Awards are all about celebrating outstanding performance and overall excellence in US real estate private equity funds and service providers. The black tie event was held 19 November at the Metropolitan Club in New York and it was this smart, event location which proved to be the perfect theme for the design of the sustainable trophies. A map of the surrounding area of New York was picked out in a dramatic dark blue on the bright gold anodised aluminium and then wrapped around the columns of wood. EFX uses only certified sustainable wood and a high percentage of the aluminium is recycled.
On the night, winners were honoured in a variety of categories, including Accountant of the Year, Core Fund of the Year and Portfolio Management. In addition, five categories were dedicated to honouring women in real estate, with the objective of honouring their often underappreciated contribution to the sector.
REFI US reportedly loved the design of the sustainable wood trophies and organiser Pageant Media added: "EFX staff are extremely professional and flexible and we trust EFX will get the trophies to us on time."