Harrods One Hundred Staff Recognition Scheme
Client News
26th June 2018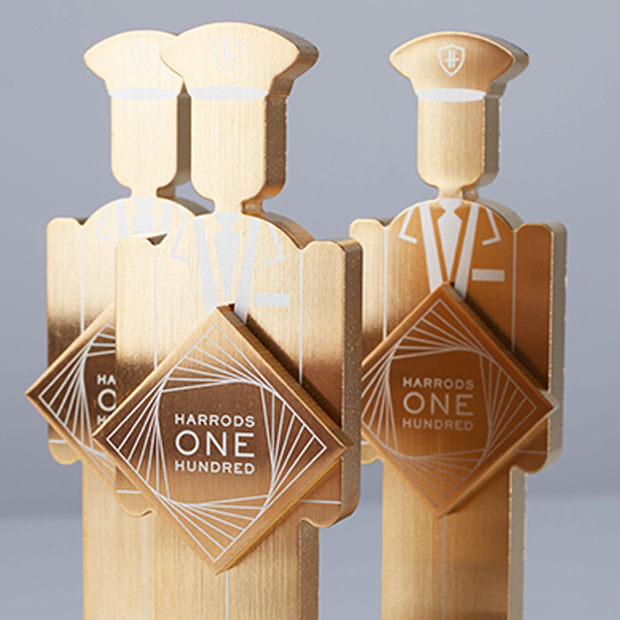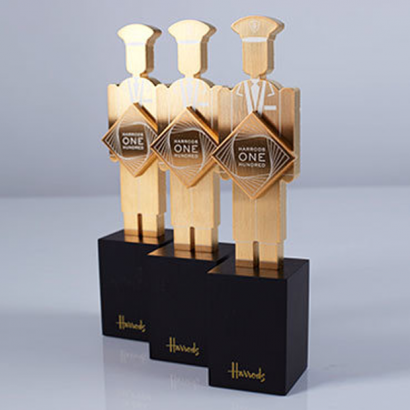 The Harrods Green Men are synonymous with the world-famous department store. For serious shoppers, the start of the Harrods' experience is being greeted at the door by the ever-present Green Men. Ambassadors of the iconic department store, they are also a London tourist attraction in their own right, featured on countless photographs and have been known to ' flash-dance' before now. You can even purchase a Harrods Teddy Bear dressed in the Green Men uniform… and now they have been transformed into élite trophies for the company's top one hundred staff.
The Harrods One Hundred is the ultimate in internal staff recognition schemes. Each year, just 100 personnel out of the 10,000 employees are invited. The trophies have to live up to the honour and the Harrods image. Each year, the EFX studio is asked to realise a specific brief, provided by Harrods.
100 Harrods Green Men brushed in gold plate
The inspiration of featuring the Green Men evidently came from the Oscars, the ultimate in high-status awards, along with the fabulous gold finish. Each trophy features the famous uniformed figure of the Harrods Green Man, including gold-trimmed, long frock coat, coordinating waistcoat and a peaked cap bearing the Harrods emblem. Each of the statues were water-jet cut from solid aluminium at the EFX works, finished in brushed gold plate and decorated with precision, laser engraving. They weigh an impressive 1.5kg and stand on an elegant, black, anodised plinth, engraved with the name of the employee.