EFX Serves Up Acclaimed Sustainable Award for Apetito
Client News
17th February 2021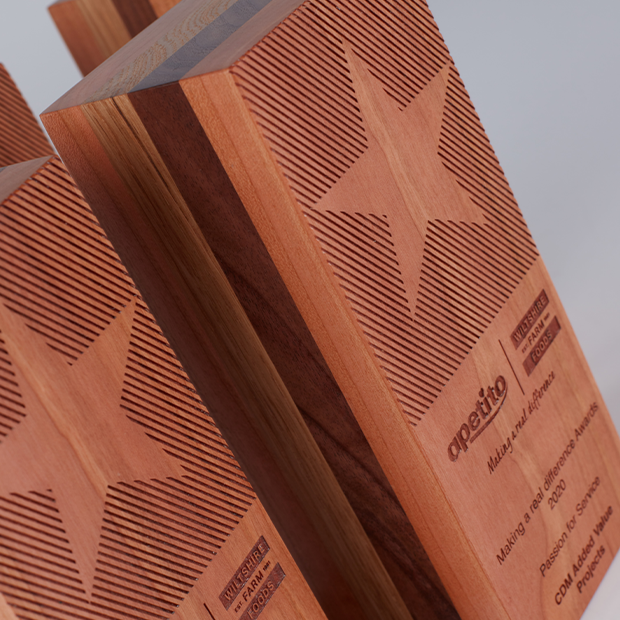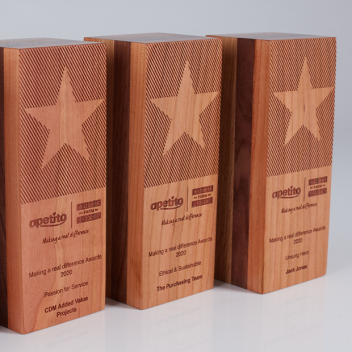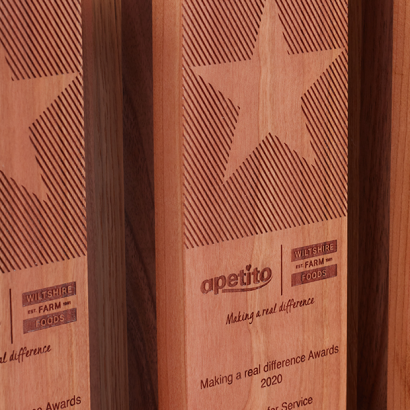 In December Apetito, the award-winning catering company, transformed its annual, exclusive awards dinner into an all-embracing, virtual celebration for its entire 1600+ team. The event proved popular with everyone. Likewise, the EFX-made, winners' trophies, sympathetically produced from 100% sustainable wood and in-keeping with the company's ethical and sustainable values.
Each day, Apetito prepares and delivers thousands of nutritious meals around the country, including to hospitals, nurseries, care homes and the elderly at home. A vital service, the company sets out to enhance healthy well-being in an ethical and sustainable way and prides itself on supporting British and Irish food suppliers, particularly those with sustainability principles at their core.
FSC Sourced Sustainable Award
The trophies for the 2020 Making a Real Difference Awards included Outstanding Contribution, Passion for Service, Ethical and Sustainable and Unsung Hero. Each trophy was created from an attractive fusion of layers of cherry, walnut and oak, all FSC sourced; the winners' names being laser engraved on the front.
The awards organiser at Apetito explains why the company chose to work with EFX. "Around 7-8 years ago I ran a national competition for a home builder. The competition allowed secondary students to design their own house, and through a series of heats and finals, the winning entry was built by the home builder.  It was an incredible prize, and we therefore wanted to ensure that the trophy the students received matched the gravitas of the prize. We therefore approached EFX to create a customer wooden trophy to reflect the competition, which the business did brilliantly. When, in my current role, we were looking to change our trophies and create something that matched the incredible work and dedication our teams put into their day to day, EFX was my first choice, as I knew they could deliver to our desired brief and create something really special."