Davis Cup Custom-Made Trophy Hits The Mark
Client News
16th June 2015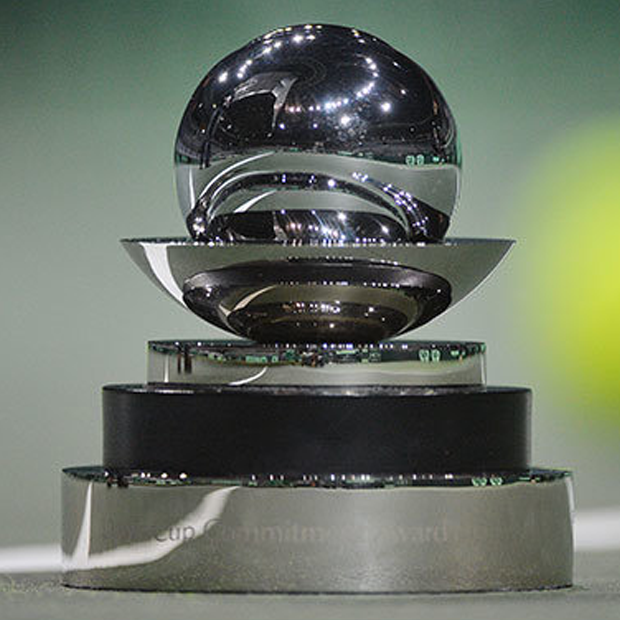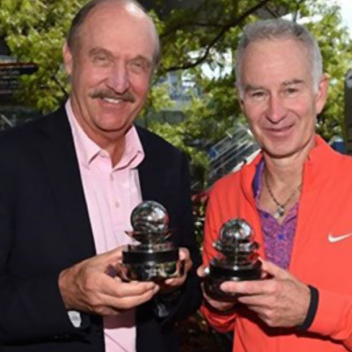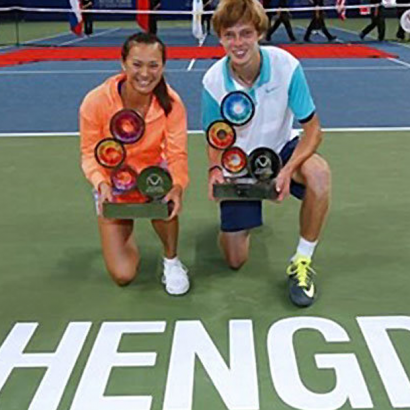 It is the time of the year when UK tennis fans can revel in their sport. The Men's French Open has just thrown up a new hero for the kids to emulate on court. Winner, Stan Wawrinka lifted the famous silver custom-designed trophy and an even larger cheque! Queen's starts 15th June with an impressive line-up, including Wawrinka, UK's hopeful Andy Murray, Rafa Nadal and Milos Raonic. And then Wimbledon quickly follows, commencing 29th June, with the all-important Davis Cup 17-19 July.
Phew! Time to stock up on the strawberries and cream…
Many of the plates and trophies for these international tournaments date back decades, if not centuries, and are perpetual. Each year a new champion's name is added. However the majority of international tennis players never actually win a Grand Slam or major tournament. Whilst they earn a living from tennis, they actually have little silverware in the cupboard.
330 players presented with the Davis Cup Commitment Award to date
The Davis Cup Commitment Award has changed that for many of these tennis journeymen. The trophy was conceived as part of the International Tennis Federation's (ITF) 2013 Centenary celebrations. Trophies are presented to Davis Cup players who have shown long-standing dedication to representing their country in the prestigious competition. Over 330 players have already qualified to receive the award.
Custom trophy features tennis ball and Davis Cup
The custom-made and engraved trophy was designed by EFX and is in the shape of a tennis ball resting in the Davis Cup trophy. The ball is made of polished aluminium and mounted on a tiered wood and aluminium base, with the ball ingeniously held in place by a strong magnet.  The ITF presented the first eight Commitment Awards at the 100th Davis Cup by BNP Paribas Final in Prague on Saturday 17th November 2013.  Tomas Berdych, Jan Kodes and Tomas Smid were among the first players to be presented with their trophies. Since then many more have received theirs including John McEnroe and Stan Smith (below):
Janet Page, Science and Technical Administrator at the ITF, sent us a few recent quotes from some of the many thank-you letters and emails the ITF receives from recipients. Reading them, it becomes clear how important recognition and winning silverware is to these tennis players. Earning a living from tennis is important but receiving a special Davis Cup trophy means so much more:
Claude N'Goran (CIV)
I would like to thank you for sending me the trophy I received. This award means a lot to me, when you have so long played for your country. I think this is the best trophy of my tennis career.
Roger Smith (BAH)
I received this beautiful trophy today. Many thanks to you and the ITF/Davis Cup Committee.  This is an honour that I will cherish for the rest of my life. Please pass on to all involved.
Vernon Lewis (LCA)
It is probably the best feeling I've ever had. While playing tennis there has been some highs but this is really the best feeling. To get this award from the ITF along with great players like McEnroe, Agassi, Becker etc. is incredible.
Oman Tennis Association
It was an honour to receive such award from ITF for one of our players (Mohammed Al Nabhani) and the OTA thanks the ITF for this kind of encouragement for tennis players.
Saudi Arabian Tennis Federation
We would like to thank the International Tennis Federation for this award. Bader Mohammed Almuqail is a national hero here in Saudi Arabia and is now a member of the Board of Directors of the Saudi Tennis Federation.
First ever Junior Masters Trophies
EFX has also created custom championship trophies and winners' replicas for the first-ever ITF Junior Masters, held earlier this year. Look out for the names of Andrey Rublev and Xu Shilin coming through the major professional tournaments and potentially the Davis Cup and Fed Cup in the years to come.
For further information about custom trophies for major sporting occasions contact Special EFX.