Bakers Bring The Flavour With Vegan Baking Online Extravaganza
Client News
4th October 2021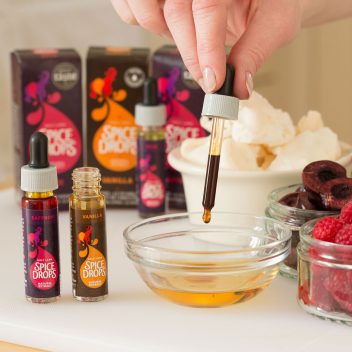 Tingling tastebuds? Must be Holy Lama Spice Drops®!
Their recent Vegan Baking competition, '#Bake Me Vegan' helped to promote plant based baking and showed how to introduce more in depth, authentic flavour with their wide range of spice drops.  Gouri Kubair, MD of Holy Lama Spice Drops® said: "Holy Lama Spice Drops® are the unsung heroes in many kitchens as they are incredibly versatile and deliver perfect flavour every time.  We weren't sure if bakers realised they are vegan certified and so wanted to do something to raise awareness amongst this growing and increasingly important audience."
Fifteen of the UK's most up and coming bakers were invited to take on the challenge, incorporating the spice drops into their bakes. Judges included GBBO's Val Stones, Tom from the Project Vegan Baking blog, and Ericka Durgahee from the Vegan Society, who selected six finalists from the fifteen bakers live on Instagram.  The final process of selecting the winner involved Holy Lama's social media followers who were asked to vote for their favourite and the baker with most votes was crowned the best vegan baker.  Holy Lama is a family business and this innovative, inclusive way of choosing a winner reflects their approach to their customers and followers – all one big happy family!
Priya Chauhan from @veganpriya won with nearly 500 votes, for her original seaside inspired carousel and dolphin spectacular! Her win wasn't only achieved for the transportive look of the finished bake, but also for the versatility and flavour, using Rose, Cardamom and Lemon Spice Drops®. We can just taste it now!! Delicious!
Gouri commented: "Priya's cake just went the extra mile in its complexity and detail; she's definitely a worthy winner.  I really hope that the competition has inspired vegans and non-vegans alike and proved that vegan ingredients can be used in everyday, as well as in speciality cooking."

For this exciting and flavourful event EFX created a vibrantly printed clear acrylic award. Which featured Spice Drop's® recognisable logo and the Bake Me Vegan title, held proudly by the winner Priya! This type of award is a great way to succinctly show detail for that striking finish.
Gouri Kubair, MD of Spice Drops® said: "EFX were great to work with; they understood the brief, worked quickly and produced a stylish trophy with clear branding.  It was exactly what we wanted!"