An Electric Atmosphere at the
E-Mobility Awards
Client News
14th April 2023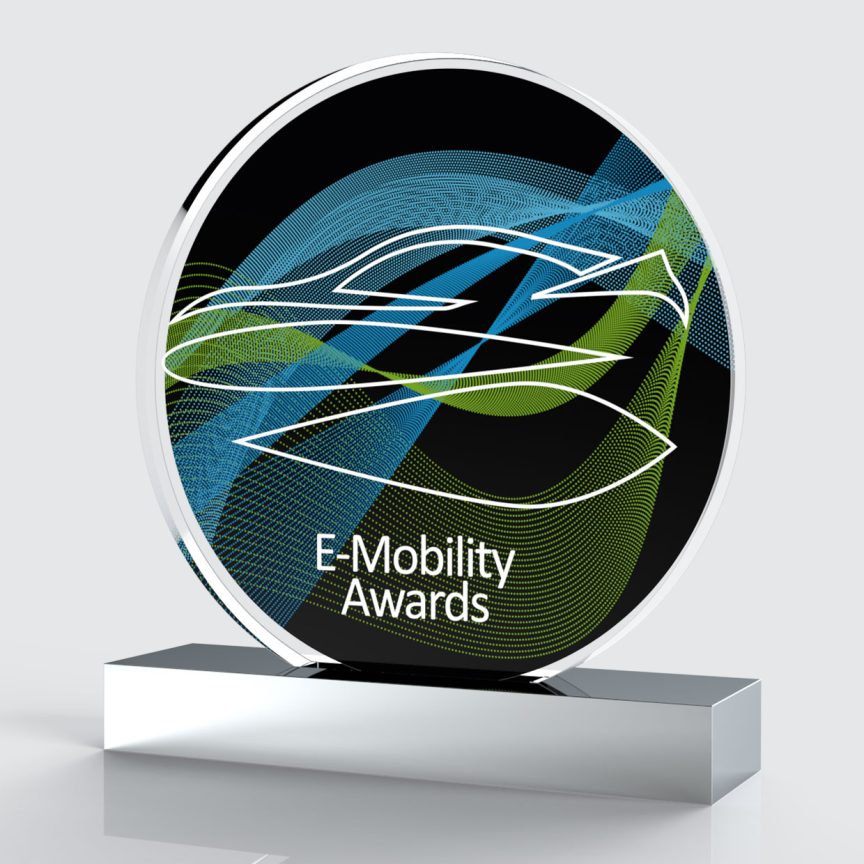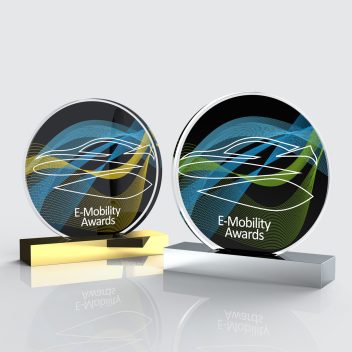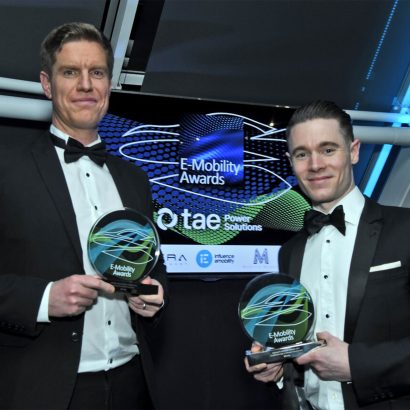 The E-Mobility Awards is a celebration of the entire EV community, and 2023's gala event took place at the British Motor Museum in Gaydon on January 26th.
It was the perfect venue to celebrate the achievements of companies at the forefront of EV development across all sectors.
Nearly 30 companies were shortlisted as finalists, in categories for Innovation, Ingenuity,Overall Achievement, and the top accolade of the Prix d'Honneur.
Before winners were announced, the guests were treated to a fantastic 3-course dinner at the Sky Suite, as well as live music from the Swing Zippers.
The ceremony was hosted by Quentin Willson, the renowned broadcaster, journalist and motoring activist, with speeches from David Roberts, CEO of TAE Power Solutions and George Freeman MP, Minister of State for Science, Research and Innovation.

Designing the E-Mobility Awards trophy
The trophies for E-Mobility Awards winners were created from digitally printed clear acrylic, with bases in nickel or gold plated aluminium with laser engraving.
The awards were commissioned by Stratford Projects, who created and manage the E-Mobility Awards. A key requirement of the design was the creation of graphics that really encompassed everything that the awards are about.
EFX's design uses a combination of shapes signifying different types of electric powered transport, including a plane wing, bow wave and the wing of a supercar, as well as a sine wave, signifying power and energy supplied by charge point manufacturers and charging networks.
This combination created a unique design with an air of forward propulsion, technological innovation, speed, energy and elegance.
These graphics were digitally printed onto the acrylic for each trophy, with colour variations for different categories.   
Matthew Davies, Managing Director of Stratford Projects stated: "What began as a simple three or four line brief, turned into one of the most striking awards trophies I've seen – and I've seen a few!
"One of the joys of working with EFX Awards is their level of understanding of what an Awards producer is looking for and, through excellent design, materials' knowledge and manufacturing resources, they are able to deliver brilliant results."
E-Mobility Awards 2024 and Stratford Projects
Stratford Projects are the creators and driving force behind the E-Mobility Awards, and with the huge success of this year's event, the 2024 awards are set to be an exceptional affair!
You can enter the E-Mobility Awards any time now until June 30 and you can book your places for next year's E-Mobility Awards by clicking the Attend the Awards button on the E-Mobility Awards website
Images © Leo Wilkinson photography