A Memento Trophy Worthy of Kilimanjaro
Client News
20th March 2017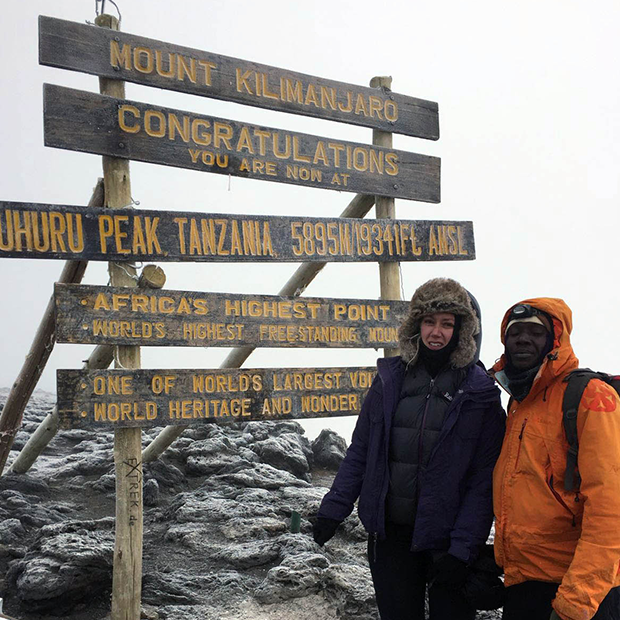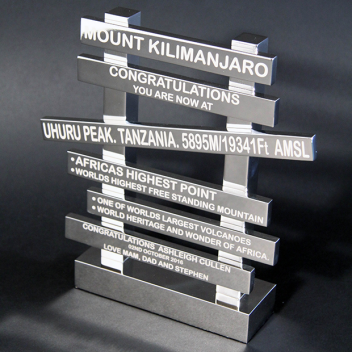 Giving a trophy which has been designed specifically with a special person in mind can be a wonderful occasion and one which can express a myriad of sentiments. This is certainly the case for Mum Sharon Cullen who got in touch with EFX to create a unique, memento trophy to celebrate and honour her daughter's successful ascent of Mount Kilimanjaro. A photograph of Ashleigh (Cullen) at the top, exhausted, cold but deliriously happy was inspiration enough for the EFX design studio − it depicts the sign found at the top of Uhuru Peak, 5895m high. Manufactured in nickel plated aluminium and digitally engraved, it captures the pinnacle of Ashleigh's achievement and one she will probably treasure the rest of her life.
We looked online and found EFX
Ashleigh had long held an ambition to climb the daunting Kilimanjaro and jumped at the opportunity when her gym organised an expedition. Mum and Dad admit they were scared and excited for her as this was such a big challenge and a long way from home. They were also hugely relieved when she text them to say she had successfully got to the top and back down safely.
"We wanted her to have a memento of her achievement and a trophy seemed the best thing but we could not find anything suitable, so we looked on-line for someone who could make one specially and found EFX. She sent a photo of it to the people she climbed with and they all wanted one and thought it was fab."
Now that's a trophy that tells a story…