Step Inside EFX's New Design Studio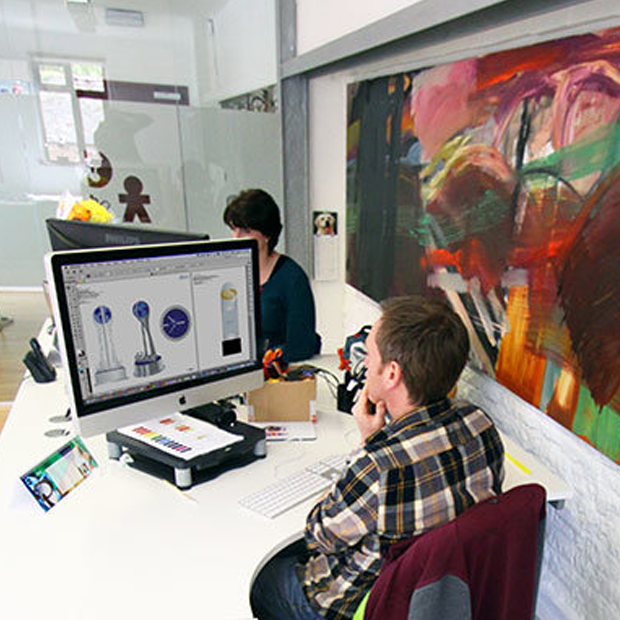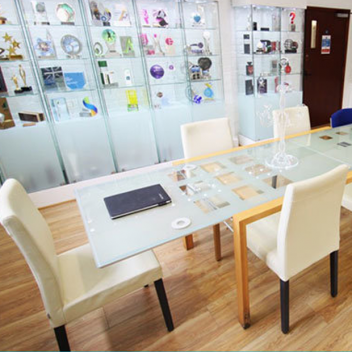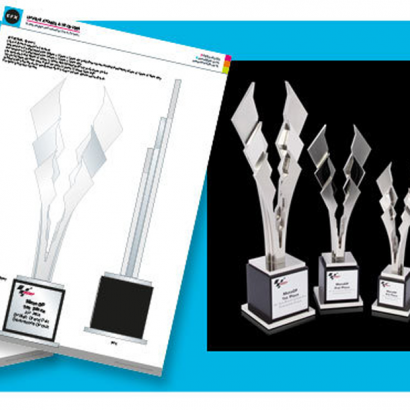 I set up the very first EFX studio some eleven years ago – just me and my Mac. Today, we have a team of five creating custom trophies and awards. We also have a myriad of Macs, PCs, 3D scanners, printers and photography equipment. And, we've just moved into a purpose-built studio. We are still on the same site as sales and production but in our own dedicated space. There's room to think and bounce ideas off each other, without disturbing our sales colleagues.
Expanding sales team
Actually, it's partly thanks to Amanda joining the expanding sales team (and needing space for a desk!) that Design has acquired its own new office space. Adjacent, the showroom has also been given a makeover. Amanda studied at the Birmingham School of Jewellery and has spent the last eight years designing bespoke jewellery for a manufacturer. The combination of her design experience and understanding of production will prove invaluable to EFX. In fact, her design talents won her the Gold Award from The Goldsmiths' Craft and Design Council for a bangle she designed and had made from Sterling Silver, stainless steel and 18ct yellow gold. EFX has its own special hallmark and we do work in precious metals from time to time. So, hopefully her jewellery knowledge can be put to good use on some of the intricate ingots and medals we produce.
Technology has certainly allowed us to develop the breadth and complexity of our bespoke awards since we first set up. The level of detail and scope of the customised awards we make today were not even a pipe dream when I first started!
Liz likes to boogie on down
The design team are skilled across the board but we all know that if a motor sport project comes in, Liz, our Senior Product Designer, will be keen for it to land on her desk. She is never happier than coming up with some stunning trophy for Silverstone and MotoGP, which we handle each year. Her comment on moving into the new studio was: "So, when's the jukebox arriving"? Time will tell!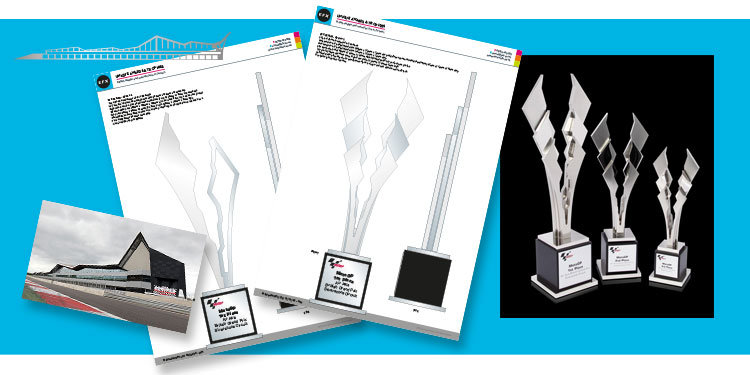 Richard is both graphic and web designer. He has developed a real empathy for working combining acrylic and metals in the same trophy and is expert at creating stunning, detailed profiles with our laser cutter. Tom, who originally joined EFX as an apprentice on the production side, is a whiz at all 3D aspects. Darren, who is our graphics and product designer, teams up regularly with David on the sales side and creates many of the Premier League football trophies and awards we produce annually.
The A-Z of designing custom trophies
The number of materials we work in has increased vastly over the last eleven years. Having received the client brief and the budget for the job, we decide on the most appropriate materials to be used. We then respond with two or three different designs for our clients' feedback. We work in a myriad of materials, including plated metals, glass, crystal, acrylics, recycled plastic, sustainable wood, stone and resin.  The characteristics and properties of each provide infinite scope and inspiration for the thousands of customised awards we create in the studio each year.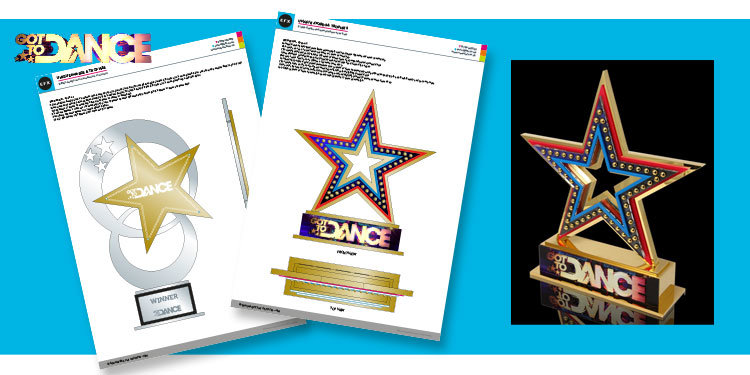 Once the design is approved and the order placed, the studio then produces technical drawings and artwork files for Production. Having received final inscription text from the client, additional artwork can be produced for the printing and engraving department to add the details of the winners, sponsors and event to each award.
Each and every design we create is unique. It's just one of the reasons we have the reputation for creating the "wow factor" at awards' ceremonies. Looking for a special award or trophy? Do please get in touch T: 01789 450005 award@efx.co.uk