Charity Awards Strike the Right Design Note with DMSF
Client News
11th December 2018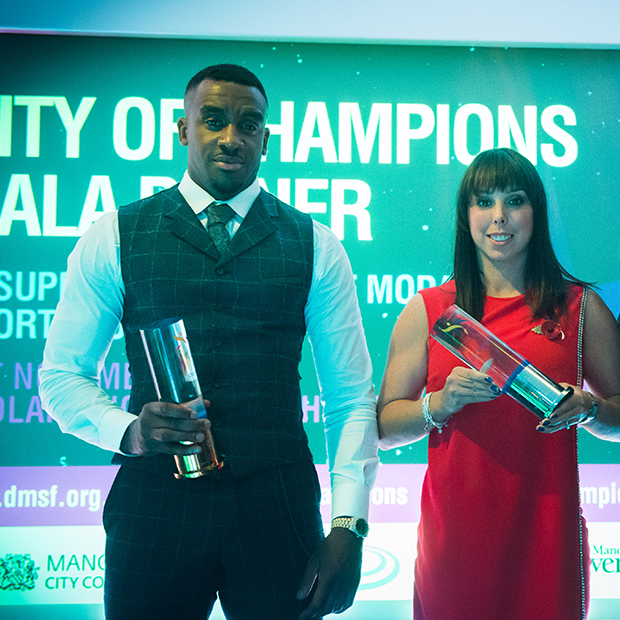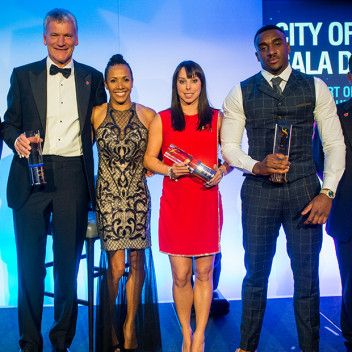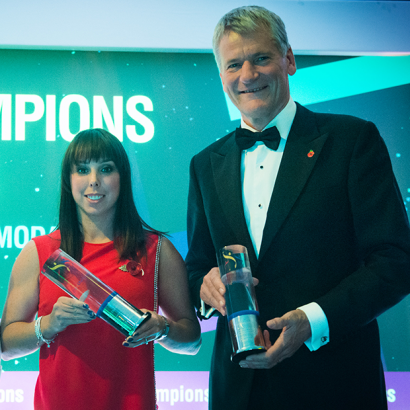 The Diane Modahl Sports Foundation (DMSF) sets out to inspire young people from disadvantaged areas in the North West and empower them in all areas of their life, including sport, education and employability. The Foundation's bi-annual City of Champions gala dinner, held in Manchester, is a major fund-raising event. A highlight of the evening is an induction ceremony into the City of Champions Hall of Fame. This year saw the induction of Beth Tweddle MBE, Bugzy Malone and David Gill, who were each presented with a prestigious EFX designed and made award, created especially for the Foundation.
The gala dinner, organised by four time Olympian and Commonwealth gold medallist, Diane Modahl, is run in partnership with Manchester City Council. On November 1. This year, some 370 guests from businesses across Manchester sat side by side with sports champions to support the Foundation and were entertained by TV broadcaster Will Perry, who interviewed the three inductees on stage, and TV Presenter Pete Graves, who hosted a live auction.
High perceived value charity awards
The EFX studio is an invaluable source for all EFX's customers. There are five designers, who are all multi-talented, not just creatively but also skilled at designing to a budget. This can be important for charities such as DMSF, running large fund-raising occasions and requiring fabulous, prestigious-looking awards, which need to have a high perceived value but not be excessive in cost.
At the outset, Diane had a clear idea what the style of trophy should be and appreciated the help she received from David, in the account handling team, who interpreted and communicated her requirements to the design team. The resulting awards are both elegant and distinctive. The top section is made in solid acrylic, decorated both internally and externally and mounted on a polished nickel, laser engraved plinth. This year, a gold-plated version was especially produced and presented to Bugzy Malone, who has achieved incredible success as one of the UK's biggest independent grime artist. He was presented with the specially produced inaugural B. Inspired award for his contribution to Manchester.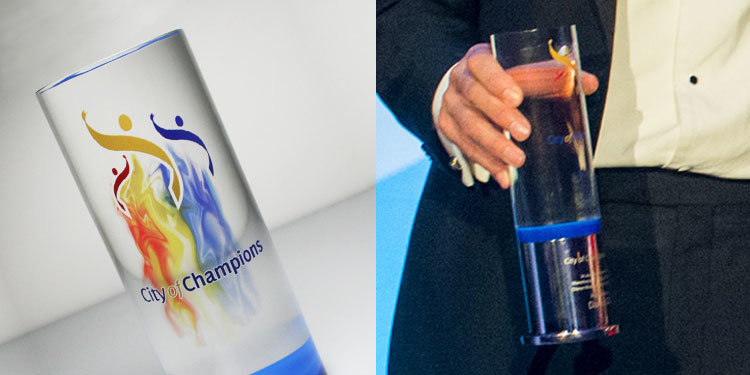 Diane is delighted: "The trophies are weighty, a good size and on brand in terms of look, feel and quality". She also complimented David and the EFX team on their efficiency and professionalism, despite the tight deadline.